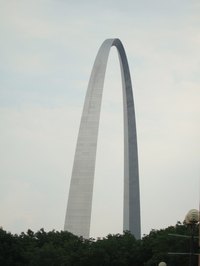 Visitors to St. Louis, Missouri, find a city that is rich with history, attractions and culture. When you're planning a visit to St. Louis, there is an assortment of accommodations to choose from, including luxury hotels, bed and breakfast inns, and more. Next time you visit the Gateway City, make your stay more memorable by booking one of the theme rooms at a local hotel. Several hotels in the St. Louis area offer theme rooms to cater to guests' individual tastes. Whether it's staying in an Indian palace or botanical garden, St. Louis hotels have a range of themes to suit every guest.
The Cheshire Lodge
The Cheshire Lodge brings a touch of Old World charm and British hospitality to the heart of St. Louis. The lodge offers standard room options along with six themed fantasy suites and three themed specialty suites. Each fantasy suite contains a jacuzzi tub for two, sitting area, and bar. Guests can choose from themes including the Safari Rain Forest, featuring a raised canopy bed and jacuzzi surrounded by lush greenery; the Raj, an Indian-themed suite with a red throne and crystal chandelier; and the TJ Bordello, which offers a mirrored canopy over the king-size bed and a wood-lined patio with a jacuzzi. There's also the Treehouse at Sherwood Forest, a two-room suite complete with mirrored walls and a canopy of trees; the Captain's Quarters, featuring wood floors, gas fireplace and nautical decor; and the Ultimate Bathe, a romantic two-room suite with a king canopy bed. The Cheshire Lodge also offers specialty suite themes including King Arthur, My Fair Lady and Camelot.
Cheshire Lodge 6300 Clayton Rd. St. Louis, MO 63117 800-325-7378 cheshirelodge.net
Fleur-De-Lys Mansion Luxury Inn at the Park
The Fleur-De-Lys Mansion, a luxury bed and breakfast, is housed in a 19th century mansion in one of St. Louis' historic districts. The inn features four different themed rooms based upon some of the city's most beautiful attractions. The Forest Park Room features an en suite jacuzzi set against an original mural of Forest Park. The Reservoir Park Room features stunning views of historic Reservoir Park, and the centerpiece is a four-poster plantation queen bed. The Botanical Garden Room boasts a bay window with views of the gardens at Reservoir Park and a floral tile garden mural. The final room, the Tower Grove Park Room, features a king-sized Victorian Mansion bed and a jacuzzi for two. All overnight stays include a full gourmet breakfast.
The Fleur-De-Lys Mansion 3500 Russell Blvd. St. Louis, MO 63104 314-773-3500 thefleurdelys.com
Moonrise Hotel
The Moonrise Hotel, a boutique hotel, is located in St. Louis' historic Loop District. The Loop entertainment area features a variety of concert venues, restaurants, bars and shops. The Moonrise offers guests a unique hotel experience, with first-class accommodations and service. Guest accommodations at the hotel include 10 different suites that each showcase a star from the St. Louis Walk of Fame. The suites feature memorabilia and photographs from stars such as Josephine Baker, Betty Grable, Red Foxx, Buddy Ebsen, Tennessee Williams, Vincent Price and Shelley Winters.
Moonrise Hotel 6177 Delmar in the Loop St. Louis, MO 63112 314-721-1111 moonrisehotel.com