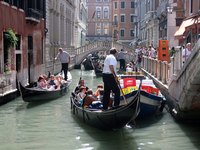 Not everyone is required to obtain a tourist visa to enter Italy, but for those who are required, the application process is relatively lengthy. U.S. permanent residents who must obtain an Italian tourist visa, also known as the Schengen visa, must apply directly through the Italian consulate general that has jurisdiction over their state of residence.
Visa Exemptions
Italy is part of the Schengen Area, which allows for one single visa for travel throughout the European Union. There are many nations, however, that are Schengen visa exempt and do not need a tourist visa to enter a member state. Americans are Schengen visa exempt, therefore visas are not necessary for tourist travel to Italy. Other nationalities that are Schengen exempt include: Andorra, El Salvador, Nicaragua, Argentina, Guatemala, Panama, Australia, Paraguay, Brazil, Honduras, Romania, Brunei, Israel, San Marino, Bulgaria, Japan, Singapore, Canada, Malaysia, South Korea, Chile, Mexico, Costa Rica, Monaco, Uruguay, Croatia, New Zealand and Venezuela. If you are not a citizen of one of these nations or are a permanent resident living in the United States, you must apply for a Schengen visa through the Italian consulate general that has jurisdiction over your state of residence.
Application Form
One Schengen visa application form is required to be submitted by the applicant. Refer to the references section below for a link to the Schengen visa application. Print and complete the form but do not sign it until you are in the presence of an Italian consular officer.
Documents
All applicants must submit the original plus a photocopy of each of the following: passport with remaining three months validity and blank visa page, proof of legal residency in the United States (green card or long-term visa), I-20 and I-66 forms (for students only), proof of sufficient funds during your stay in Italy (such as bank statements), proof of employment, proof of round-trip plane ticket and any hotel, car or train ticket reservations, proof of health insurance coverage while abroad and one passport-size photo in color.
Application
Apply in person for your visa at one of the 10 consulates or embassy in the United States. They are located in Washington, D.C., New York, Chicago, San Francisco, Los Angeles, Detroit, Boston, Houston, Miami and Philadelphia. To learn which consulate has jurisdiction over your state of residence and for a full list of contact information and addresses, refer to the link in the resources section below. When you submit your application, you must submit original and photocopies of everything.
After Arriving
The visa process is not complete until after you arrive in Italy and register your presence with the police department. All visa entrants must register and obtain a Permesso di Soggiorno. You also will have to again show your proof of health coverage while in Italy.