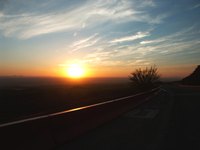 Big Bend, Texas is an area in west Texas north of the bend in the Rio Grande River. The region shares the border with Mexico. It is a remote, arid, desert area. Popular activities are primitive camping, hiking and rafting either at Big Bend National Park or on the Rio Grande River.
Terlingua Ghost Town
Terlingua Ghost Town is located between Big Bend National Park and Big Bend State Park. Terlingua is the site of an old quicksilver, or mercury, mining town that has been restored. Several buildings remain, including the Perry Mansion, named after Howard Perry, the owner of the land, the mine and the town. Terlingua hosted the first chili cook-off, which started the Texas tradition. Chili cook-offs are held at the end of October. Nov. 2 features the "Day of the Dead" tradition, where people place candles on the graves in the cemetery. Ten Bits Ranch, a completely solar-powered bed and breakfast, is 15 minutes away and offers a distinctive desert experience.
Terlingua Ghost Town 104 Ivey St. Terlingua, TX 79852 432-371-3119 terlingua.com
Ten Bits Ranch 6000 N. County Road Terlingua, TX 79852 432-371-3110 tenbitsranch.com

Big Bend National Park
Big Bend National Park is a remote area at the bend of the Rio Grande River. The park has different habitats, from barren desert to rivers and mountains. Camping, backpacking and hiking are popular park activities. Floating the Santa Elena Canyon is a popular and leisurely trip. The canyon has the most spectacular scenery in the park, with cliff walls that rise about 1,500 feet above the river. There are three developed campgrounds and one RV campground. Backcountry camping requires a permit. The Chisos Mountain Lodge is located in the park and offers motel-style accommodations.
Big Bend National Park 1 Headquarters Drive Big Bend, TX 79834 432-477-2291 nps.gov

Big Bend Ranch State Park
Big Bend Ranch State Park is located in the Chihuahuan desert wilderness. It is a remote, rugged, unpopulated wilderness area. According to the Texas Parks and Wildlife Department, it is the largest state park in Texas, extending to the Rio Grande. The park can be explored by hiking or biking more than 65 miles of trails. Horseback riding for a scenic one-day adventure or an extended camping adventure is available, and there are numerous equestrian primitive campsites. Lodging is available at the park headquarters at Sauceda. The Big House has three bedrooms and baths and can accommodate eight people. The Bunkhouse is a former lodge and can accommodate 30 people bunkhouse-style, with the women on one side and the men on the other.
Big Bend Ranch State Park Lajitas, TX 79852 432-424-3327 tpwd.state.tx.us