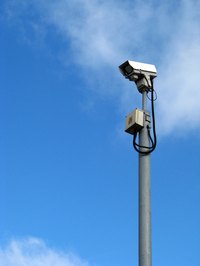 While cameras, alarms, and uniformed guards are still mainstays of shopping mall security, these elements are now part of integrated security systems that make it easier for security personnel to monitor activities and respond to incidents. Networking technology allows these elements to seamlessly work together to identify incidents, record what occurs and alert guards and local law enforcement.
Lighting
Proper lighting is crucial to ensuring shopper safety. Dark parking lots and garages provide ample opportunities for criminals to victimize shoppers and require a great deal of illumination. Remove landscape features, such as tall, leafy trees and bushy shrubs and ensure that areas are heavily lit to remove opportunities for criminals to conceal themselves from potential victims. Older malls were typically built with alcoves that provide concealment for intruders and require extra illumination to remove that threat.
Cameras
Shopping mall security relies on networked closed-circuit cameras to identify and record incidents. Cameras are positioned within the mall and throughout the parking lots to provide complete coverage of the grounds. Software applications enable recording of all footage captured by the cameras, which is invaluable when an incident results in criminal prosecution. Equip guards and patrol vehicles with portable video monitors that permit access of the feed from any camera on the site.
Alarms
Smash and grab robberies are a major threat to mall merchants, necessitating that you locate alarms at every potential point of entry into the mall. Wireless technology has made this much more cost effective, eliminating the expense of wiring the entire mall. Wireless alarms communicate with the security network via antenna and are programmed to alert guards and local law enforcement alike when they're tripped.
Guards
Guards remain essential to any comprehensive mall security system, providing deterrence and rapid response to incidents. During the daytime, the presence of uniformed guards reduces the likelihood of robbery and harassment of patrons while nighttime patrols provide rapid response capability to break-ins and vandalism. Guards on foot also have a vantage point that allows them to identify and respond to suspicious behavior that may isn't readily apparent from viewing a camera's video feed.
Two-Way Radios
Today's two-way radios are far more sophisticated than the walkie-talkies of the past. They allow guards to pinpoint the location of any tripped alarm and to place calls to local law enforcement and other emergency responders. The most advanced models give guards control over mall fixtures, allowing them to turn lights on and off and lock or unlock entrances.