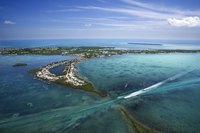 A cheap, romantic getaway needn't feel low-budget in Florida. Free night life and inexpensive lodging aren't difficult to find if you look in the right places. You can camp in a remote corner of a national forest for free, or kick up your heels in the state's most glamorous city. Miles and miles of sandy beaches on the Atlantic and the Gulf of Mexico tempt visitors to fine-tune their tans. If you plan your trip for the off-season, you'll typically see lower prices on accommodations, attractions and tours.
Get Away From it All
Dry Tortugas National Park, 70 miles from Florida's Key West, is reached only by boat or seaplane. Sandy beaches, clear blue water, shipwrecks and coral reefs invite visitors to swim or snorkel year-round. Visitors can take a guided tour of Fort Jefferson, the spot where Samuel Mudd was imprisoned for conspiring with John Wilkes Booth, or simply tour the fort and island on their own. Ferry boats have room for kayaks, so bring your boat for a romantic paddle to one of the more remote islands. Just south of the fort, a camping area has spots with views of the sunset and the starry night sky.
Solitude
While it's only about an hour's drive north of the hustle and bustle of Disney World in Orlando, Hontoon Island State Park is a quiet retreat on the St. Johns River. Hiking trails meander through the park past picnic areas, spots to launch canoes and kayaks and signs of early Native American presence. The park has a campground and boat camping spaces, but consider one of the reasonably-priced cabins for a bit more privacy. Cabins don't have televisions or telephones, and visitors use a common bathhouse. Both canoe and bicycle rentals are available at Hontoon Island.
Up a Lazy River
The Steinhatchee River empties into the Gulf of Mexico in Florida's Big Bend region. During the July through September scallop season, visitors in search of the briny aphrodisiac don snorkels and fins and wade into the shallow Gulf waters. Around Valentine's Day, locals celebrate fiddler crabs with a festival that includes music, tours of the river and a cook-off. Budget-friendly suites at the Steinhatchee River Inn come with Wi-Fi, cable television and, in some cases, full kitchens. Keep in mind that room rates in the Steinhatchee River area go up during the warm months.
Miami on the Cheap
Miami, from its art deco architecture to its sunny beaches, is a sexy city, but it can also be an expensive place for a getaway. While a room at the Biltmore doesn't qualify as cheap, you can tour the hotel on Sunday afternoons for free as storytellers regale you and your sweetie with tales of the hotel's celebrity guests. Head to the Little Havana section of the city for flamenco dancing at Casa Panza, or plan to visit the area on Cultural Fridays for an art and music festival. Freehand Miami is a contemporary hostel with private rooms and suites as well as a dorm. The owners make an effort to connect visitors with the city.