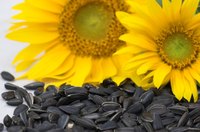 According to the University of Ohio, the state's native Adena people were the first to farm sunflowers and people have continued to grow them for the last three thousand years. Today sunflowers are classed in two types. One type is grown primarily for sunflower oil, while the other is grown for food. After the oil is extracted the seed meal is often made into cattle food. Sunflowers can grow in most soil and need the same macronutrients as many other vegetable crops.
Nitrogen
Like most garden plants, sunflowers take nutrients from sunlight and the soil. The health of the soil determines how well a crop will grow, and nitrogen is the key nutrient. Nitrogen enters the soil as part of organic matter, such as decaying plant matter.
Bacteria in the soil convert the nitrogen into ammonium and nitrates that plants need to grow. These nitrates are absorbed by the sunflowers as nutrients to supply the energy. Nitrogen also encourages healthy leaf growth and flowering.

Phosphates
In the phosphorus cycle, phosphates from eroded rock or fertilizer dissolve into the soil and become fixed in the soil organic matter. The phosphates become ionized during this process. According to the University of California Extension, this ionized phosphate is then dissolved and absorbed by the sunflower plant. The phosphates are an important part of the process of photosynthesis. The plant will use phosphates to make adenosine triphosphate (ATP). This is the chemical the sunflower plant will use to store the solar energy it has absorbed.
Micronutrients
Some other minerals needed for photosynthesis to occur are potassium, manganese and magnesium. Before adding these micronutrients to sunflower fertilizer, it is a good idea to have the soil tested. The Extension Service can help you get a mix that is right for your soil and ensure a healthy sunflower crop.