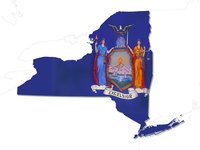 Buffalo is one of the largest cities in New York state, following only New York City. It is located in the state's western region, near the Niagara River and Lake Erie. Located in Erie County, Buffalo is home to many kid-friendly attractions, including the Buffalo Zoo, the Buffalo Museum of Science and the Buffalo City Hall Observation Tower. For families visiting Buffalo with children, there are several fun, kid-friendly restaurants in the city.
Anchor Bar
Anchor Bar is one of the most famous restaurants in Buffalo due to the fact that it is the home of one of the most well-known foods in America, the Buffalo chicken wing. Buffalo wings were created at the Anchor Bar in 1964 by Teressa Belissimo, a mother of one of the bartenders. Both lunch and dinner are served at this fun restaurant that features a kid-friendly ambiance and dozens of photographs of celebrity customers on the wall. The restaurant also sells Buffalo-wing related souvenirs, including attire, key chains, shot glasses, postcards, bumper stickers, stuffed animals and their signature hot sauce. Anchor Bar offers a children's menu for kids under the age of 12. The menu includes chicken fingers and french fries, chicken wings with celery and bleu cheese, pizza logs, spaghetti and hot dogs.
Anchor Bar 1047 Main St. Buffalo, NY 14209 716-883-1134 anchorbar.com
Ichiban Seafood Steakhouse
Ichiban Seafood Steakhouse Restaurant is a Japanese dining establishment located in Buffalo. The restaurant specializes in sushi and hibachi seafood and steak. Children will enjoy dining at Ichiban Seafood Steakhouse because, similar to other hibachi restaurants, the chef will prepare the meal directly at the table, occasionally performing tricks in between the meats or vegetables (and often directly interacting with children). Some of the items that are available on the menu include steak and chicken, filet mignon and scallops and chicken tatsuga age. The restaurant also offers a dessert menu, with ice cream options including mango, vanilla and green tea flavors.
Ichiban Seafood Steakhouse 3192 Sheridan Drive Buffalo, NY 14226 716-833-1605
Chef's Restaurant
Chef's Restaurant has a cozy, family-oriented atmosphere and serves traditional Italian dishes. In existence since 1923, Chef's Restaurant has an airy and open ambience. It was named the city's best family-friendly restaurant in 2008 by Parents Connect of Nickelodeon. The diverse menu includes meals such as pasta broccoli, wheat spaghetti, gnocchi, apple walnut salad, vegetable lasagna, chicken parmesan and veal steak. The children's menu is available for kids that are under 10 years of age. The children's menu provides favorites like ravioli, applesauce, celery and chicken fingers. The children's dessert is orange sherbet.
Chef's Restaurant 291 Seneca St. Buffalo, NY 14204 716-856-9187 ilovechefs.com