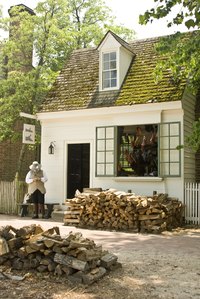 Whether it's relaxing in a historic southern Virginia town, soaking up the scenery of the Shenandoah Valley, enjoying a history lesson in Colonial Williamsburg or relaxing amid natural beauty along the Potomac River and Chesapeake Bay, Virginia is home to plenty of spots for a weekend road trip. For those on a budget, affordable but comfortable accommodations provide the perfect base to enjoy an Old Dominion State getaway.
Southern Comfort
Southern Virginia's Fall Creek Farm, a 50-acre bed-and-breakfast property in Danville, has two one-bedroom cabins in wooded settings. Made out of hand-hewn logs, the cabins include tin roofs, fireplaces, colorful quilts and porches with rocking chairs, as well as modern amenities such as whirlpool tubs and flat-screen televisions. After breakfast is delivered to your cabin, enjoy the farm's stocked fishing ponds, wooded hiking trails and outdoor pool -- or venture into historic downtown Danville, where you can visit the Danville Science Center or Danville Museum of Fine Arts and History. About 40 miles west, the circa-1930s Fishel Cottage in a historic section of Martinsville sleeps five and includes an eat-in kitchen, enclosed back porch, televisions and Wi-Fi. The log cabin is within walking distance of the Virginia Museum of Natural History and Piedmont Arts Museum, and other activities include canoeing, boating or fishing along the Smith River or Philpott Lake.
Waterfront Weekend
Spend a weekend in a cozy efficiency cabin at Westmoreland State Park along the northern neck of the Potomac River near its convergence with Chesapeake Bay. The park includes an Olympic-size swimming pool, boat rentals and ramps, a fishing pier and 6 miles of trails. The cabins have central heat and air, sleep two and include full kitchens with cookware, bed and bath linens, fireplace and grills. Westmoreland also has several camping cabins that cost less but have no kitchens, heat, air conditioning or linens. At Kiptopeke State Park in Cape Charles, you can rent a yurt -- a cross between a tent and a cabin -- that has a Chesapeake Bay view or stay in one of five air-conditioned RV trailers that sleep six and have full kitchens. Other amenities at Kiptopeke include a swimming beach, boat ramp, lighted fishing pier and 5 miles of hiking and biking trails.
A Colonial Good Time
Colonial Williamsburg has an array of expensive ticket packages that allow you to tour some of its largest and oldest buildings, but you can view the outside of these historic structures and stroll the streets of the recreated 18th-century town for free. You also can enter historic shops and taverns and tour the circa-1715 Bruton Parish Church or the College of William & Mary's historic campus. In addition, nearby Colonial Historical Park has a ticket that allows seven-day admission to both Historic Jamestowne and the Yorktown Battlefield for less than $20. A number of chain hotels in the Williamsburg area provide comfortable accommodations for a reasonable price, often well under $100. Two within 5 minutes of Colonial Willamsburg include the Comfort Inn Historic Area and the Country Inn & Suites Williamsburg Historic Area. Each hotel has an heated indoor pool, hot tub, fitness center and complimentary hot breakfast.
Mountain Memories
Luray, a Shenandoah Valley town surrounded by the Blue Ridge Mountains, is home to Shenandoah National Park, Luray Caverns and several motels that provide a comfortable base from which to enjoy the majestic mountain scenery. Luray Caverns owns two motels -- one each near the caves' East and West entrances -- with outdoor pools, mountain views and discounted golf packages at Caverns Country Club. You can stay at the Hillside Motel, where each room has free Wi-Fi, a mini-refrigerator and microwave oven. Amenities include a playground, picnic area and outdoor pool. The Hillside is within 2 miles of downtown Luray's restaurants and antique shops. During your Luray visit, take a leisurely trip along Shenandoah National Park's famed Skyline Drive, marvel at the namesake caverns' awe-inspiring stalactite and stalagmite formations, or spend a few hours fishing or canoeing on the Shenandoah River.