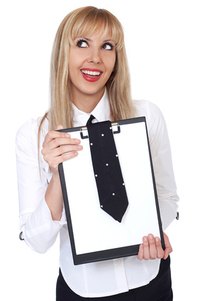 Most companies have new-hire training programs, and many have continuing education and training for all levels. An organization's training program can increase company loyalty and motivate employees to work harder and more efficiently. Training programs can also impact employee morale—both positively and negatively.
Training Fosters Team Environment
According to the Business Performance website, "employers of choice," or companies with good reputations, know how to motivate and create team environments. Training programs can help create a team atmosphere by teaching employees how to work together and how to solve problems as a group. Comprehensive training programs also teach employees the proper company protocols, such as database management, company mission statement, product description verbiage and more. This helps to build confidence in the team, because team members can feel confident in their coworkers' skills.
Motivating Employees
Most training programs are designed to give employees the tools they need to do good jobs. This keeps employees motivated to do the best jobs possible. When companies send seasoned employees to yearly training classes, it keeps them up to date on new company developments and also serves as a refresher course on the company's main principles and philosophies. This can help burned-out employees get back on track and eliminate bored and unproductive attitudes.
Valuing Employees
Companies spend lots of money on elaborate training sessions, sometimes including off-site training. In addition to the cost of the training, companies incur other costs, such as loss of normal productivity time. When employers invest this amount of time and resources, they send a message to employees that, "You are worth it, and we value you." This can give employees increased job satisfaction because they feel appreciated by their employers.
Negative Issues
Although training can be good for employee morale, there also can be a downside. Employees who are over-trained might decide to take their training to another company. For example, say a company sees leadership skills in one of its top salesmen, and sends the salesman to management training. The salesman loves the training class, does well in it, and is excited to practice his new skill sets. The company does not have a management position available for him, so he goes to another company.