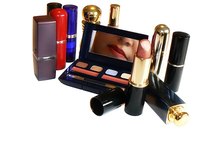 Implement marketing ideas for makeup by joining forces with other professionals from industries that complement your products or skills. Find opportunities to display makeup in front of large audiences simultaneously to generate sales. Learn how to build direct relationships with consumers using simple marketing ideas for makeup.
Provide Makeup Artistry Services
Work as a freelance makeup artist for celebrities, fashion models and retail stores to receive wide exposure for your makeup products. Use your makeup on clients during photo shoots, fashion shows and red carpet appearances. Take photos of clients when possible to demonstrate the variety of looks that can be created with your makeup. Give your business card to clients who may want to order products directly from you in the near future. An academic background in cosmetics development or marketing can help to obtain jobs as a makeup artist.
Join a Home Shopping Channel
Apply to be a vendor for one or more home shopping channels by submitting photos and information about your products to a buyer or review board representing these networks. Home shopping channels are a great way to generate revenue using television broadcasts that reach targeted audiences every day of the week. Offer to present your products on air to provide television viewers with as much information about the makeup as possible. Find a marketing angle such as natural ingredients, ease of use, long-lasting wear or other features to garner consumer interest in the products. Use these angles to give your makeup brand a sales advantage over competitors in the cosmetics industry.
Operate a Kiosk
Rent a shopping mall kiosk to market your makeup to consumers who visit this location. Kiosks are usually leased on a monthly basis and are less expensive than storefronts. Many shopping malls have a leasing manager who will provide you with information about kiosk rentals and availability during the current retail season. Shopping mall kiosks usually feature an empty cart or booth with adequate room to display your products. You will need a cash register, samples of your makeup products and trustworthy employees who can operate your kiosk during the mall's hours of operation. Select shopping malls that attract a high volume of foot traffic to increase your chances of success when marketing makeup products to consumers.