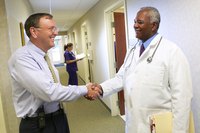 The needs across the board in the health care industry are increasing as rapidly as the baby boomers demanding quality care. Making the adjustments often falls squarely on the shoulders of the human resource professionals expected to solve many of the issues. In addition to a nursing shortage, there's a need for more qualified professionals in every health care division, according to Symphony Corp. vice president Jay Weiss, in a 2011 interview in the Healthcare Finance News. HR managers continue to struggle with retention and recruitment while dealing with tighter budgets, regulatory changes and ever-changing technology.
Managing People is Still a Priority
Hospitals and health care practices are hiring. For many occupations, such as nurses, certified nursing assistants and electronic record specialists, job openings are everywhere. At the same time, staffing accounts for an average of 50 percent of a health care practice's budget, according to Weiss. It becomes a strategic issue when hiring budgets get cut just as the needs increase. Even as those budgets are trimmed, health care company owners and hospital administrators continue to pressure HR to hire qualified, experienced workers who can provide a higher quality service.
Creating Effective Workplace
While HR professionals continue to recruit staff to deliver the care, they must create a working environment where those trained individuals want to stay. To increase retention, improve morale and give health care workers the tools they need to deliver quality service. HR managers must find ways to create effective workplaces, according to the American Hospital Association. They can do this by increasing training, covering shift shortages and bringing frontline staff members on to advisory committees to come up with practical solutions. Employees are more productive and remain committed to managers who listen to their needs, communicate effectively and bring employees into decision-making processes.
CEO Incentives and Compensation
The link between CEO pay incentives and facility performance is a top issue facing HR professionals, especially when frontline workers see pay cuts, staff shortages and reductions in their own perks and benefits, according to Hospital Impact, a website targeted to physicians, hospital executives and other health care leaders. Budgets are being cut and HR is being asked to do more with less while boards and facility owners continue to approve increases for top management. HR needs to be open and communicate with employees about what it takes to hire the most effective leadership and how it ultimately will improve their working conditions.
Provide Sufficient and Regular Training
As if they don't have enough issues on their plates, it's up to human resource departments to ensure managers and their staff members receive current training as new procedures and technology come on board. Employees are only as effective and up-to-date as the training they receive. HR must balance the need for additional training, either in-house or through seminars, online courses and outside trainers, with the need to keep the floors staffed. They must make sure employees receive the latest and most accurate training while keeping up with credential renewals and continuing education requirements -- all within shrinking budgets.