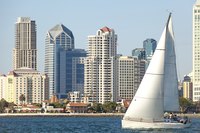 Staying in downtown San Diego means you can walk to the harbor to watch the sailboats or explore the restaurants and bars in the historic Gaslamp Quarter. Watch daily entertainment at harbor-side Seaport Village. Walk or take the downtown trolley to watch a baseball game at downtown's Petco Park. Stroll to the downtown ferry stop for a quick ride to Coronado Island, where you can walk to one beach facing the harbor or take a taxi or bus to white-sand beaches facing the Pacific Ocean. Affordable downtown residential hotels can save you money on long-term visits to this popular Southern California vacation destination.
Island Inn
Island Inn, which requires a minimum one-week stay, has 200 furnished studio-style rooms with private baths equipped with a refrigerator, microwave and free Wi-Fi access. Choose a room with a patio or balcony. In a part of San Diego where even full-time residents can struggle to find parking spaces, this facility provides secure underground parking for a an extra weekly fee.
J Street Inn
J Street Inn, with 221 furnished studio-style rooms equipped with full private baths, cable TV, refrigerators and microwave ovens, looks like a small apartment complex with a handsome stucco exterior. It's located just a few steps away from downtown's outdoor Horton Plaza shopping mall and the trolley stop. Use the on-site fitness room. Get help exploring the city with the aid of the staff at the 24-hour front desk operation. This facility also provides underground parking.
Baltic Inn
At the Baltic Inn, you can reserve one of 200 fully furnished studio-style rooms for a minimum of a week. These rooms have bathrooms, but to bathe, use one of the six shower facilities located on each floor. Each room has free Wi-Fi access, cable television, a refrigerator, microwave oven and in-room phone service for an extra fee. No onsite parking is available at this facility.
Vantaggio State Street
In Little Italy, a long street lined with Italian restaurants, shops, sidewalk cafes, a popular art supply store and espresso bars at the northern end of downtown, choose a private or shared room at Vantaggio State Street. Guests use a community kitchen, which is equipped with a dining room table. Furnished rooms have free Wi-Fi access, cable TV, a mini-refrigerator, microwave oven, dishes and silverware. Local telephone calls are free at this facility, which has onsite washers and dryers.
Hotel Occidental
At the Hotel Occidental, choose a single room with a shared bath, or select from rooms with full baths, half baths, kitchenettes or full kitchens. This facility has a private courtyard to enjoy San Diego's famously cool evening breezes, even in summer. All residential hotels in downtown San Diego urge advance reservations, especially when visiting this popular Southern California destination during busy summer months.
500 West Hotel
The 500 West Hotel is like a combination hostel and hotel. Rooms are equipped with cable TV and free Wi-Fi access, but you have to ask for a refrigerator to be placed in your room. This facility has laundry facilities, a community room, a common dining area, vending machines and a 24-hour front desk. You can rent a room or, if traveling in a group, rent a dorm room. Dorm rooms each have four bunk beds. You can reserve a single bed in a dorm room, but only if you are not a resident of California because of the state's hostel regulations.