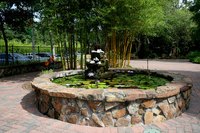 A pond adds beauty and serenity to your landscape. While not every home has room for a large pond, almost anyone can find a spot to squeeze in a small one. Don't let your pond become a breeding ground for mosquitoes, which can happen if there are no fish in it to control the insects. Use fish to control insects. When choosing fish for your pond, consider what kinds of fish will do well, because some fish--such as koi--need a great deal of room and will die in a small pond.
Mosquito Fish
The mosquito fish is a good choice for small ponds, especially in temperate climates. This fish is related to the common guppy, and is about the same size, growing to a maximum of 3 inches long. Place some mosquito fish in your small pond to control mosquito larvae. They will also eat the larvae of other insects. Additionally, these fish will eat algae in your pond, helping the water to stay clean and clear. They can survive harsh winter conditions if the pond is deep enough and has aeration throughout the winter. Or catch them and move them to an indoor tank for the winter, then put them back out in the spring.

Goldfish
Goldfish are commonly used in small ponds to enhance the beauty as well as control mosquito larvae and other insects. With a large variety of types and colors, goldfish offer many choices for your pond. They thrive in a pond approximately 2 feet deep, and as a bonus they won't destroy the plants. Goldfish can survive the winter in a pond if the water is at least a foot deeper than the freeze zone. Otherwise, remove them from the pond for the winter.

Bitterlings
Growing to a maximum size of 4 inches, bitterlings are an attractive addition to a small pond. These white and yellow fish are easy to care for and feed on parasites and insect larvae. Bitterlings are omnivores, and need to have a diet that includes both plant and animal products. If they need supplemental feeding, use a good fish food that contains both animal and vegetable products. Bitterlings get along well in a community setting, and won't fight with each other or with the other fish in your pond.
American Flagfish
The flag-like markings, with stripes and "stars" on both sides, give the American flagfish its unusual name. These fish do very well in a small pond, although they can be a little bit aggressive with other fish. Plant your pond with lots of aquatic plants around the edge, pieces of driftwood scattered on the bottom, and floating plants for additional cover. As long as they are not overcrowded, your American flagfish should do well in a community pond. They grow to a maximum size of 2½ inches long, and are wonderful algae eaters, consuming enough to help keep your water clear even through the summer. If your pond is new and doesn't have enough algae for your flagfish, supplement them with algae flakes or tablets. Along with the algae they will consume insects and insect larvae. They need both kinds of food to keep their diet balanced.