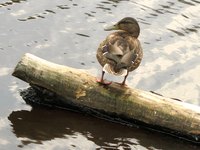 As the largest freshwater lake in Wisconsin, Lake Winnebago is a favorite destination for fishermen, boaters and campers. Located in the central region of the state, cities that surround the lake include Oshkosh, Fond du Lac, Neenah and Menasha. Visitors to the area can find a wide range of accommodations including, hotels, campgrounds and cabins.
The Willows Resort
The Willows Resort is located on the shores of the lake between the cities of Fond du Lac and Oshkosh. Guests will enjoy access to many nature trails on which animal enthusiasts will enjoy the occasional glimpses of deer, swans, songbirds, bald eagles and a variety of water fowl. The resort also offers a variety of boats and motors available for rent. Both one- and two-bedroom cabins are available at the Willows and include such amenities as small kitchens, furnished bed linens, charcoal grills, air conditioning and color TVs. Though animal lovers may enjoy the wildlife at the resort, guests should note that The Willows currently has a strict "no pets" policy.
The Willows Resort N9103 Lake Shore Dr. Van Dyne, WI 54979 920-921-2033 thewillowsresort.com/
High Cliff State Park
For vacationers who prefer easy access to state park facilities, there are cabins available at High Cliff State Park along the eastern shoreline of the lake. The park offers two wheelchair-accessible cabin options to choose from. The first and larger of the two cabins sleeps up to six people. Its features include a screened-in porch, a low-counter kitchen with microwave, stove and refrigerator, heating, air conditioning and a private bathroom with a wheelchair-accessible shower. The smaller of the two cabin options sleeps only four, and is known as the "Rustic," as it has no kitchen or private bathroom. Its features include an open porch, public shower and restroom access, and exterior fire ring.
High Cliff State Park N7630 State Park Rd. Sherwood, WI 54169 920-989-1106
Eden KOA at Fond du Lac
Eden KOA is located on the southern shore of Lake Winnebago near Fond du Lac. Offering a cabin experience that's closer to camping than a vacation home, the Kamping Kabins at KOA provide little more than a solid roof over their guests' heads. Renters of these accommodations will need to supply their own sleeping bags, towels and toiletries. While the cabins themselves are rustic, the resort offers a wide variety of amenities including access to a swimming pool, hot tub, sauna, a game room, a jumping pillow and free wireless Internet access.
Eden KOA at Fond du Lac N4177 Cearns Ln. P.O. Box 356 Fond Du Lac, WI 53019 920-477-2300