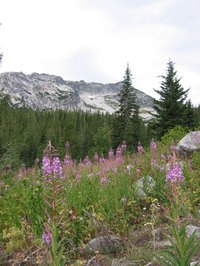 Washington state shares a border with Canada and enjoys many miles of coastline along the Pacific Ocean. While Washington has its share of urban jungle, it also has a considerable amount of as-yet-unspoiled natural beauty. If you are planning a weekend getaway in Washington on a budget, you will find that there are a hots of options available, from island getaways to secluded bed and breakfasts.
San Juan Islands
San Juan, Orcas and Lopez islands can be found off the northwest coast of Washington and offer numerous inexpensive weekend getaway opportunitites. The islands provide guests with a variety of outdoor opportunities, such as biking, hiking up Mount Young, or taking a whale-watching cruise. The three islands are also home to a number of state and national parks that afford visitors opportunities to experience the outdoors at little or no cost. A variety of budget accommodations are available on the islands, including hotels, bed & breakfasts and camping.
San Juan Islands Visitors Bureau Office P.O. Box 1330 Friday Harbor, WA 98250 888-468-3701 visitsanjuans.com
Run of the River Inn & Refuge
If a romantic weekend getaway is in your plans, then the Run of the River Inn & Refuge may be just what you are looking for. Located two hours east of Seattle, Run of the River is nestled along the banks of the Icicle River just north of Leavenworth. Two sides of the property are surrounded by a wildlife refuge, where you can see deer, elk, coyotes, bears and a variety of other animals in their natural habitat. The adults-only bed & breakfast offers suites that include rain showers, fireplaces, Jacuzzis and private patios or balconies. A homemade hot breakfast is included with your rate, and optional romance packages can be added to spice up your weekend. Getaway packages are frequently advertised such as free lift tickets and even free ski lessons with your stay at the Run of the River Inn.
Run of the River P. O. Box 285 9308 E. Leavenworth Rd. Leavenworth, WA 98826 800-288-6491 runoftheriver.com
The Great Wolf Lodge
Eighty miles southwest of Seattle, you will find the Great Wolf Lodge in Grand Mound. This family-oriented lodge features suites, including a "Wolfe Den Suite" that was created just for small children - an area in the main room made to look like a cave, with bunkbeds, games and a separate television. On-site dining options are available, as are spa services. The lodge has a large indoor water park as well, with numerous slides, wading pools and hot tubs. The Lodge even offers a "Scooops Kids Spa" for the little princess in your family, where she can get a manicure, pedicure or facial. Family retreat packages as well as other specials are offered on a regular basis.
Great Wolf Lodge 20500 Old Highway 99, SW Grand Mound, WA 98531 800-640-9653 greatwolf.com