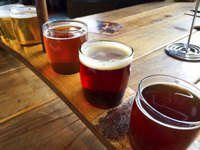 Spreading the word about a beer company, especially one in its early growth stage, often relies on guerilla marketing due to small budgets. Low-cost promotions, in lieu of more expensive paid advertising, might have to be your key to increasing brand awareness and boosting sales. Promoting your beer using a variety of often face-to-face sales and marketing techniques and tactics can be a challenging, but ultimately rewarding, business tactic.
Start Locally
Craft beer drinkers often gravitate toward locally brewed beers, and bars and restaurants are interested carrying local product, says Chet Brett, brand manager of Church Street Brewing Company, a Chicago-area craft brewery. "The craft beer industry is experiencing ridiculous growth, and the best part is, local is king," Brett said in 2014. "It's in a retailer's best interest to be informed about all the best beer that's available in their market, so keep them informed about your brand." Brett recommends not being afraid to approach large chains.
Attend Beer Festivals
Getting consumers to try your beer that first time is critical to generate repeat sales, according to Brett. He said festivals, which can attract 1,500 to 10,000 people, are key to building a brand." Local food festivals are another way to get your beer in front of consumers. Depending on state and local ordinances, you will most likely need to work a festival with a restaurant or other retailer with a license to sell beer.
Enter Beer Contests
Entering beer contests can help spread the word about your beer, especially if you win one or more events or just place in the top five. Visit the website of the American Homebrewers Association to find beer competitions in your territory, and ask your accounts if they are aware of any.
Offer Tastings
Depending on local laws, liquor stores can offer beer and wine tastings. When customers sample a beer and like it, that can lead to immediate sales in the store, providing a same-day return on your investment. Check with your retail accounts to learn if they are able to offer free samples of your beer. You might also try to hold samplings at your restaurant accounts.
A Nod to Social Media
Brett stresses the importance of social media because customers often become fans and want to follow a brewery's story. "We make daily Twitter and Facebook posts for our customers," he said. "If we add new production capacity or add new beers, our fans want to see pictures." Marketing strategist Gerry Moran of MarketingThink.com suggests you post your daily tap list on your social media pages.
Distributors vs. Own Sales
Getting a distributor to pick up your beer can be a boon because bar and restaurant owners trust their distributors to bring them quality beers. However, distributors represent multiple suppliers, and won't push your beer as strongly as you will, says Brett. Plan on hitting the road and making many pitches to bar and restaurant managers and liquor store owners. Church Street signed more than 300 accounts within 18 months of launching, largely through visits to retailers. "When you first start building the brand, it seems like 100 percent of your marketing is visiting retailers," Brett says.