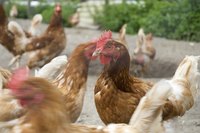 Chickens are a great way to help the food budget, if you have room to keep them. All they really need are food and water, shelter and a good fence to keep them safe from predators and out of mischief. Chickens do not fly like other birds do, but they can flap and flutter and get up into trees and over fences, something that needs to be taken into account when you build a chicken fence.
Wire
You can build a fence for chickens out of a variety of different materials. Your primary consideration will be if you are only trying to keep the chickens in or you are also trying to keep something out of the hen house. Common chicken predators (or egg stealers) are dogs, opossums, raccoons, snakes, foxes and coyotes. Depending on where you live, the size and type of predators may vary. If you are fencing your chickens in and are not too worried about predators, chicken wire is an affordable, easy solution. This wire usually comes in two sizes, with either 1-inch or 2-inch hexagonal holes, and comes tall enough--about 5 feet--to keep them contained. The holes in the 2-inch wire may be too large if you have young chicks in the pen, but it works well for older birds. This wire is not as strong as the 1-inch wire, so if you think other animals might try to get in you should use the 1-inch wire. If predators are a big problem in your area, you should consider a welded fencing wire with small square or rectangular holes. Fencing with smaller holes is stronger, but it tends to trap more debris plus it costs more.
Posts
The type of fence posts that you use will depend on how large your pen is and how strong you need it to be. Treated wooden fence posts are extremely strong and last 20 to 30 years, but these are normally going to be more than you need for a chicken pen. Metal "T" posts work well and are strong enough to discourage most predators that will come after your chickens. The problem with the metal posts is that they may bend if they are used as corner posts. The ideal solution to this situation is to use braced wooden posts for the corners of your chicken pen, and metal "T" posts along the sides. This makes a pen which is attractive, functional and strong.
Portable Fencing
In some situations, you may have a large pasture and you would like to be able to keep your chickens there, but it is not practical to fence in the entire pasture for chickens. One way to resolve this is to make a small, portable chicken pen with no bottom to it. Use 1-by-2-inch boards for the framework, and cover the entire frame with 1- or 2-inch chicken wire. Keep the pen small enough so that you can move it to clean grass every two or three days. It should be about 2 feet high, but may need to be higher if your chickens need the space. This chicken fencing works well if you do not have a serious predator problem and is a good solution for fencing in your chickens in the spring, summer and fall. You can also make portable fencing for your chickens from cattle panels bent to form an inverted "U" shape, using 2-by-4 boards as framing.