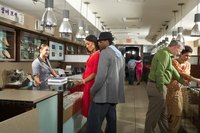 Even high-end retail items must be placed on sale periodically to make way for new merchandise. When considering a sale for luxury brands, you need to strike a balance between making room for new inventory while ensuring the sale does not damage the high-end status of the brand's name. If you get creative with some promotional ideas, you can make your existing customers feel appreciated and broaden your customer base to include new buyers. You can also strengthen your store's reputation for quality and service.
Gentlemen's Night
Hold a "Gentleman's Night" before a holiday such as Christmas or Valentine's Day. Provide champagne or other adult drinks. If you have a jewelry store, hire models to showcase favored pieces. A clothing or lingerie store can hold a mini-fashion show. Offering a personal shopper to help men select items to purchase can increase your sales during the event.
Educational Seminar
Whether cosmetics, jewelry, home decor or fine cookware, most customers appreciate learning about products and how to use them. For cosmetics, hire a top makeup artist to talk about new products and teach women how to apply them. Offer facials for both men and women with the latest skin care products. For jewelry, you might schedule a talk about fine gems and how to appraise them. You can also offer free appraisals or jewelry cleanings. Serve refreshments and offer private consultations.
Silent Auction
Announce that you are holding a silent auction for charity, offering select pieces from your collection. With every purchase your customers make, they can enter a drawing to have their favorite charity named beneficiary of the evening's charitable proceeds. Send invitations to frequent customers and encourage them to invite a friend. New customers can reserve a spot. Prepare a gala evening in your store, with refreshments, hors d'oeuvres and music. During the auction, display specially-priced items for purchase.
A Rare Exhibit
An exhibit of rare artifacts, jewelry or art can help draw attention to your sale. Contact designers, artists and collectors to display their items in your upscale store or shop. This idea is particularly effective for jewelry sales. Artists such as Ilya Abelsky, the designer who continues the traditions of the Faberge eggs, tour often. His collection of 2,000 pieces might create buzz and draw a crowd. Exhibits of recovered sunken treasure have also been well attended in recent years.