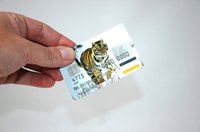 When you have a merchant account that allows you to accept credit cards for your business, you can accept credit cards over the phone as well as in person. There are a few things to remember when you take credit card information over the phone. If you do not take all of the pertinent information during your conversation with the customer, you may not be able to process the order.
Complete Account Number
Be sure to get the complete credit card account number from the client, and repeat it back to them to make sure you have written it down correctly. Credit card account numbers contain an important series of codes that tell the merchant account what kind of card it is and what bank it is from. You can protect yourself from credit card fraud by insisting on getting the complete account number so your merchant account provider can check the card against any lost or stolen account numbers.
Three-Digit Security Code
On the back of each credit card, located in the signature box, is a three-digit security code. Using this code can help to insure that the customer is reading off of the credit card itself and not from a photocopy of the card, or from a listing of stolen account numbers.
Expiration Date
Always ask for the month and year of the expiration date on the credit card. Be sure the card is current before continuing with the transaction.
Full Name on the Card
Your merchant account provider will try to match up the credit card account number with the full name on the card as provided by the bank. This is another way you can use to protect yourself from someone who may be reading off a list of stolen credit card numbers.
Read it all Back
When you have taken down all of the credit card information, slowly read it all back to the customer to have them confirm that you have the right information. Also be sure to read back to them the amount of the sale, the products or services involved and the expected delivery date.