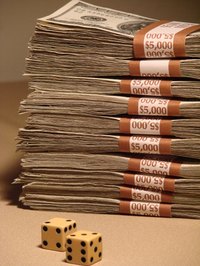 When the owner of a life insurance policy passes away, the deceased's beneficiary is faced with the decision of how he or she wishes to receive the settlement. Depending on the survivor's financial situation, the money can be taken as a lump sum or via several annuity options. If the latter is chosen, the survivor will need to make an additional decision as to the amount received and for what period.
Lump Sum
With a lump sum payout, the beneficiary receives the full face amount of the policy upfront. If the policy was a permanent plan such as whole life, any unpaid loan balance plus interest will be subtracted from the face amount. If the policy was a term plan, the beneficiary will receive the full face amount since there is no cash value accumulation that the policyholder could have borrowed against.
Life Income
The life income options give the beneficiary a specific amount of income each month until death, with the figure based on age and the amount of life insurance. This option can be beneficial for those wanting a guaranteed income that lasts a lifetime. Payments end when the beneficiary dies, with the insurance company retaining any unpaid amount.
Life Income Period Certain
This option is similar to the life income, except that the beneficiary receives the income for life or for a specific period of time, whichever is longer. If the beneficiary dies during the period, a second beneficiary would receive payments unit the end of the period. For example, if the period is 20 years and the beneficiary dies in year 14, a second beneficiary would receive payouts for the remaining six years.
Specific Income
This option allows the beneficiary to choose the amount and time period for which death benefits are received. For example, with a $200,000 policy, the beneficiary could elect to receive $20,000 a year plus interest for 10 years. As with the period certain option, if the beneficiary dies during the period, a second beneficiary would receive payments for the rest of the period.
Interest Income
The interest income option provides the beneficiary with payments only on the interest of the death benefit for a specified period of time. At the end of the period, the beneficiary can receive the original death benefit.