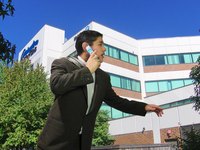 Enterprise education can be defined as shaping the ability in students to deal with uncertainty in the creation and implementation of new ideas and new ways of doing things. It includes the fostering of a combination of many different qualities including passion, vision, resilience, creativity, experience in making ideas happen, communication, knowledge and being action-oriented. Teaching this in schools can help to build our next generation of entrepreneurs and idea creators.
Attitude and Goal Setting
Many students have a difficult time thinking past simply getting a good grade in their classes. Students don't tend to think about the future, the unknown and their personal growth. Perform an exercise in your class about the achievement of life goals. Have each of the students write down a page worth of life goals. Discuss the power of a positive attitude and visualization in the achievement of goals. Have the students close their eyes and ask them to visualize the step-by-step achievement of their goals. Other positive attitude aspects like optimism and confidence should be discussed as well. These positive habits make a strong foundation to any enterprise.
Creating an Invention
Divide your class into several groups. Tell them that each group will be responsible for creating an invention that will make housework easier. Have the groups divide into different roles like production manager, designer, etc. Each group must come up with ideas together, design the product, figure out the marketing plan and then present the plan to the class. This project can be as complicated as you want to make it, as it can be adapted to fit in one class period or over the course of several weeks. The project allows your students to feel as though they have worked on a business together and it helps them to understand what it feels like to generate ideas in a team setting.
Local Business Project
This project can be done with individuals or in groups. The individuals or groups must come up with an idea for a business that will be successful in your area. The students research the creation of the business from beginning to end, including calling real estate agents for location information and contractors to help build the storefront. Students plan the business from scratch but are encouraged to collaborate with other classmates. Students should be given as many resources as possible including Internet and library resources. The end result is a fully-formed business idea that can be presented to the classroom. The project also gives your students the knowledge of how to create a business.
Charity Event
This project involves having your students actually plan a charity event for an organization of their choosing. The entire class will work together to plan the event to make it as successful as possible. Divide the classes into various committees that will work on specific sectors of the project. After much planning and organization, hold the event and have the students run the behind-the-scenes aspects (with supervision). By working in such a large group, the students get a feel for working in a small- to medium-sized company. By actually raising money, the students feel a sense of accomplishment.