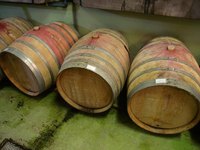 World-class wineries, luxurious spas, Michelin-acclaimed restaurants and unbeatable natural beauty--Napa Valley's abundant charms make it California's second most-visited destination, trailing only Disneyland, according to CondeNast Traveler. The downside to Napa is its cost. As the Associated Press put it, "Places to stay in Napa Valley tend to range from quite expensive to very expensive." Still, tourists can save a few bucks by visiting the dwindling handful of wineries that continue to feature complimentary touring and tasting.
Clos Pegase
The ancient practice of aging wines in caves has made a comeback in Napa in recent years, and Clos Pegase offers the opportunity to tour some of the most spectacular caves in the valley at no cost. Designed by famed architect Michael Graves, the winery's 20,000 feet of aging caves and a "cave theater" earned it a spot on the "Via Magazine" list of "Cool Wine Caves." Tours begin at 10:30 a.m. and 2 p.m. daily, as of 2010, and reservations are not required.
Clos Pegase 1060 Denaweal Lane Calistoga, CA 94515 707-942-4981 clospegase.com
Mumm Napa
You won't find a lot of sparkling wine produced in Napa, making the Mumm Napa tour especially interesting. The 45-minute tour is offered four times a day but only the first one, at 10 a.m., is free as of 2010. Reservations are required for groups larger than six, and sampling the bubbly will come at a nominal price.
Mumm Napa 8445 Silverado Trail Rutherford, CA 94573 800-686-6272 mummnapa.com
Goosecross Cellars
A tour at Goosecross Cellars will run you $40--but the winery offers a "Wine Basics Class" every Saturday morning at 10:30, and it's absolutely free. According to the winery, "Your host will lead you through the basics of wine enjoyment in a fun and unpretentious way." Reservations are required.
Goosecross Cellars 1119 State Lane Yountville, CA 94599 707-944-1986 goosecross.com
Sutter Home
Sutter Home is known nationally for its White Zinfandel made from grapes grown mainly in California's Central Valley, but the winery has deep roots in the Napa Valley. The winery offers free self-guided tours of its gardens as well as complimentary tasting of its non-reserve wines.
Sutter Home Family Vineyards 277 St. Helena Hwy (Hwy. 29) South St. Helena, CA 94574 707-963-3104 ext. 4208 sutterhome.com
Coupons and Discounts
While free tours and tastings are now rare in the valley, most inns and hotels have access to deals, including freebies. For instance, the McClelland-Priest Bed & Breakfast notes that its guests "enjoy complimentary wine tastings at many of the wineries of the Napa Valley, with customized self-guided tasting tours." Inquire with your innkeeper, concierge or front-desk person. Also, the Napavalley.com site features a slew of discounts.