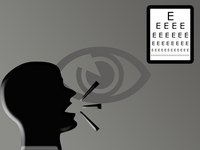 Many people experience moments or short periods of time when their eyes feel tired or objects appear blurry. But if the numbers on the microwave look consistently blurry or if you've started holding things farther away to read the fine print, you may be experiencing symptoms of needing new glasses.
Squinting
Squinting is one of the most common symptoms of needing new glasses. By closing your eyes slightly, you refocus light onto your retina, which momentarily helps you to see more clearly. Your eye doctor will need to adjust your current glasses prescription to help you see better. If you find you are squinting frequently, schedule an appoint with your eye care practitioner as soon as possible.
Headache
Headaches are another symptom of needing new glasses. While reading, if your eyes are straining to see, over time the stress can cause headaches. The same is true of a distance optical prescription. If you are driving or watching TV or a movie and your glasses prescription is not correct, the strain of trying to see through your current lenses can lead to headache.

Near and Intermediate Vision Problems
An obvious sign of needing new glasses is when you have to start holding printed material farther away from your eyes to read it clearly. Usually this means you need bifocals or your current bifocals need to be made stronger. However, sometimes problems with near vision are not so easily figured out.
Whether you wear glasses to see better at a distance or up close or both, if you work on a computer monitor, there may be a time when your current glasses do not work well with the computer. In addition to blurry vision, your eyes may feel tired. This can be fixed by moving the monitor closer or farther away, if possible, but sometimes the only way to correct the problem is to have new lenses made that are just for working on the computer. According to Allaboutvision.com, this is called an "intermediate correction" because the power required is in-between your distance prescription and your near prescription.

Night Vision Problems
Lower light level at night causes your pupils to enlarge and can amplify already existing vision problems. According to The College of Optometrists, if you notice problems while driving at night, you may need to change your current glasses prescription.