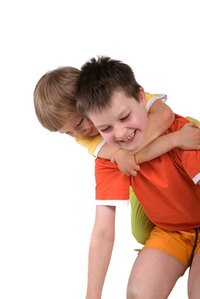 Adult and children males and females can be diagnosed with ADHD (Attention Deficit Hyperactivity Disorder). However, boys tend to have very distinct signs and symptoms of ADHD that many adults and girls do not exhibit. Being aware of these signs and symptoms can assist parents in knowing when to seek professional assistance.
Hyperactivity
Hyperactivity is a common trait amongst boys. Everyone knows that boys tend to run around, fidget and otherwise expend energy. However, it becomes a problem and a symptom of ADHD when the hyperactivity interferes with everyday life. For example, the boy may be unable to complete his homework, finish his chores or participate in after school activities due to his extreme level of hyperactivity.
Impulsivity
Boys with ADHD tend to act more impulsively than their non-ADHD peers. For example, boys with ADHD tend to shout out answers in class without first raising their hands and get into trouble due to acting without first thinking about the consequences. Though this can be expected to a certain extent of most children, this is a symptom of ADHD when it becomes a problem that interferes negatively with the boy's life. If, for example, the boy acts impulsively and gets into trouble so commonly that he has been expelled from school, he should be evaluated for ADHD.
Aggressiveness
Aggressiveness is a common symptom of boys with ADHD. Though boys tend to be aggressive by nature, their lack of impulse control associated with ADHD tends to result in excessive aggressiveness. This can lead to a variety of problems, such as getting into fights and using offensive and inappropriate language. This can negatively interfere with the boy's success in school and maintaining relationships with his peers.