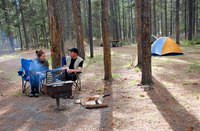 A weekend getaway to Ohio is a good option for native Buckeyes or people in neighboring states. One of the cheapest ways to enjoy a weekend getaway is to camp at one of the many state parks. Most of them offer campsites and an abundance of recreational opportunities in beautiful settings. For those who prefer an urban getaway, major cities such as Dayton, Cleveland, Columbus and Cincinnati all offer free and low-cost attractions and events throughout the year. Regardless of where you're looking to vacation, there are cheap weekend getaways to be found.
Indian Lake State Park
Indian Lake State Park is located on the shores of Indian Lake, a 5,800-acre body of water. The park is home to 405 camp and RV sites. Campers with boats have access to the boat launch or boats can be rented. Park amenities include mini-golf, basketball, volleyball, swimming beach and camp store. A variety of cheap restaurants are located in the area including Aunt Millie's, Subway, Froggy's, Cranberry's and Tilton Hilton. Many of these restaurants are accessible by boat as well as car.
Indian Lake State Park 12774 State Route 235 N Lakeview, OH 43331 937-843-2717 dnr.state.oh.us
Cleveland
Spend the weekend at the reasonably priced Motel 6 in Cleveland. You can even bring your pets along for free. The property is near the Strongsville Wildlife Area and Rocky River Reservation both of which offer free hiking trails, fishing and picnic areas. Downtown Cleveland has many free and reasonably-priced attractions as well that you can take advantage of. Visit the Great Lakes Science Center or the Children's Museum of Cleveland. If music is something you enjoy, Cleveland Institute of Music offers more than 500 free performances each year.
Motel 6? 15385 Royalton Road Cleveland, OH 44136 440-238-0170? Motel6.com
Shawnee State Park
Shawnee State Park is located on 63,000 acres at the foothills of the Appalachian Mountains. A number of lodging choices are offered including a 50-room hotel, 25 cottages and 107 campsites. The park includes a pool, mini-golf course, volleyball, basketball and tennis courts, shuffleboard and horseshoe pits. Turkey Creek Lake and Roosevelt Lake both offer swimming, fishing and boat rentals. There are more than 60 miles of hiking and 75 miles of bridle trails accessible from the park.
Shawnee State Park 4404 State Route 125 Portsmouth, OH 45663 740-858-6652 dnr.state.oh.us/