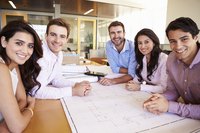 Every entrepreneur wants to be successful in business. That's the whole point of going into business, after all. But what exactly does "success" look like, and how do you know when you've attained it? Each company must define success for itself. And once it has done so, it must come up with ways to measure its performance relative to that definition.
Set and Monitor Goals
Goal setting is an essential part of running a successful business, because goals give entrepreneurs benchmarks to look toward as they add new products, adjust pricing, determine advertising and sales strategies and attempt to increase the visibility of their brands. Goals, whether for the overall business or for individual employees, should follow the SMART rule: They should be specific, measurable, attainable, relevant and timely.
Calculate Profits
Companies are formed to make money, regardless of the industry or the types of goods or services they offer, so naturally, businesses use profit as a way to measure their success. After deducting total costs from the total revenue, businesses get a better picture of the profit they earn in their endeavors. Whether measured monthly, quarterly or annually, calculating profits helps businesses measure financial success.
Solicit Customer Feedback
Customers, whether satisfied or miffed, provide businesses with feedback on their products and services various ways. Through surveys, online, over the phone and in print, customers are afforded the opportunity to express their opinions by answering a series of questions. Customers also provide feedback by sharing their opinions on consumer review panels, forums, blogs, and social networks like Twitter and Facebook. Businesses use customer feedback as a way to measure how successful their products or services are in adding value to customers' lives. Since customers are the foundation for businesses, their feedback and satisfaction play a huge role in how businesses measure their success.
Track Repeat Business and Referrals
A business that's producing quality products and offering quality services to customers can almost guarantee repeat business, as well as customer referrals. Referrals can come from current customers and past customers, as well as networking groups and through vendors and suppliers.
Measure Employee Satisfaction
Measuring success in business isn't just about calculating profits and positive customer feedback, success is also measured by employees' level of satisfaction. An employee who is unhappy with the work environment, feels unappreciated and who hasn't received the training and education necessary to thrive can cause problems for a business. Therefore, companies make an effort to include employee morale in the equation when they sit down to review the business' overall performance.
Identify Passion
Owning a business is no small feat. It requires long hours, dedication and commitment. A businesses is as successful as the person running it, so entrepreneurs have to take care in monitoring their success by ensuring that they still remain passionate about the business endeavors and avoid burnout.