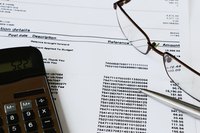 One way that many people save for retirement is by setting up an IRA. An IRA is an individual retirement account. One can be set up by anyone who received taxable income during the year and is younger than 70 ½ years.
Benefits of Setting Up an IRA
The benefit of setting up an IRA is that whatever you put into the account is usually not taxed until you take it out and you can usually claim what you put into your IRA as a deduction on your taxes. Another benefit of an IRA is that you can set up an IRA whether you have a retirement plan through your work or not. However, if you are covered by a work retirement plan (or your spouse is) you may not be able to deduct everything that is put into your IRA.
Also, both you and your spouse can set up individual IRAs or you can set up a joint IRA even if only one of you is receiving compensation. Compensation includes wages, salaries, commissions, self-employment income, alimony, separate maintenance, military differential pay and nontaxable combat pay.
Setting up an IRA
An IRA can be set up any time throughout the year, but contributions are time-sensitive. You can set up an IRA through a variety of organizations and companies as long as the IRA meets government standards. For example, you can set up an IRA with a bank or through a life insurance company. Your IRA can also be part of a simplified employee pension or part of an employee association trust account. Your IRA is actually a trust set up in the United States for the benefit of you and your beneficiaries.
IRA Guidelines
An IRA must meet several guidelines. The trustee or custodian (i.e., the bank that holds your IRA) must be an IRS-approved entity, and the trustee or custodian cannot accept more in contributions than can be deducted in a single year (with the exception of rollover or employer contributions, which can exceed this amount). Contributions must be in cash with the exception of rollover contributions and you must have a nonforfeitable right to the account at all times.
Money in the account cannot be used to buy life insurance, and assets in the account cannot be combined with other property with few exceptions. You must start receiving minimum withdrawals by April 1 of the year after you turn 70 ½ years old.
IRA Contributions
The amount that can be contributed per year is governed by another set of rules and regulations. First, each spouse must calculate contributions separately depending on compensation. In 2009, for example, the limit that could be contributed to an IRA is the smaller of the following: $5,000 ($6,000 if you are 60 or older) or your taxable compensation for the year. If your employer went bankrupt earlier in the year and you participated in a 401 K, you can contribute a minimum of $8,000. These contributions are the most that can be contributed in any one year to all IRAs for a family. This means, if $5,000 is the lower amount, then you and your spouse can only contribute a combined $5,000 to all accounts for your household no matter how many IRAs you have.
Contribution Issues
If one year, you do not make the maximum contribution to your IRA, you cannot make up the difference in another year. All contributions must be made by April 15 of each year. If you contribute more to your IRA in one year, then you can apply the excess contributions to go towards a future year as long as the contributions for the future year do not exceed $5,000. You can begin making contributions as soon as you open your IRA and every year until you turn 70 ½ years old.
Tax Benefits
On your taxes each year certain amounts contributed to an IRA and fees associated with your IRA can be deducted. Each year, you can deduct the lesser of your personal contributions to your IRA or the limit of contributions. You can also deduct trustee fees and broker commissions.
Withdrawing from your IRA
The year you turn 70 ½ you must begin withdrawing a minimum amount from your IRA account and you must continue to withdraw the minimum every year by Dec. 31 to avoid penalty. You can either make the minimum withdrawal the year you are turning 70 1/2 or by April 1 of the year after you turn 70 ½. This withdrawal is considered part of your adjusted grosss income (AGI) on your taxes and is taxed by the government. If you withdraw the year that you are turning 70 ½, you only have to be taxed on one minimum withdrawal on that year's taxes. If you withdraw by April 1 of the year after you turn 70 ½ you will not only be taxed on your initial withdrawal, but on the other withdrawal you must by law make by Dec. 31 of that calendar year.
Minimum Withdrawal Amount
The minimum withdraw amount is different for each person and is calculated by the following equation. The balance of the IRA divided by the joint life expectancy of the account beneficiaries. The younger the beneficiary (because you are at least 70 ½), the higher the life-expectancy and that means you have a lower yearly minimum to withdraw.
The "Ten-Year Rule"
This rule is used if the beneficiary is older than 10 years younger and allows you to use a beneficiary to use an age 10 years younger than yours so that you get a lower minimum. For example, you are 70 ½ and the beneficiary is 70 ½, you could use the age 60 ½ to earn a better and lower life expectancy number.
Failure to Withdraw
A failure to withdraw means that there is a 50 percent penalty on the shortfall. It is best to remember to withdraw each year. There is also no maximum to the amount you can withdraw from your IRA, but the amount is counted as part of your AGI and is taxed so the more you take out, the more you pay in taxes.
Special Notes
In addition to a traditional IRA are SET, Roth IRA and Simple IRA. These plans are all different from a traditional IRA.