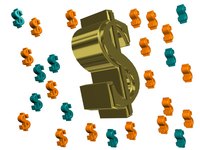 Payday loans are short-term loans with high fees and interest rates. They are often associated with predatory lending. Many states, including Illinois, place limits on these loans in order to protect consumers. These limits restrict how much can be borrowed and the fees that can be charged.
Loan Amounts
Illinois limits payday loans to the smaller of $1,000 or 25 percent of your monthly pre-tax income. For example, if your pre-tax monthly income is $3,000, you will only be able to borrow $750. However, if your monthly income is $4,000 or more, your payday loan limit is $1,000. Illinois limits the amount of payday loans you can have out at one time to two.
Time Frame
Illinois payday loan terms range from 13 days to a maximum of 45 days. However, Illinois permits borrowers to cancel the loan within two business days without penalty but the loan principal must be repaid in full at the time of cancellation. Illinois law prohibits rolling over payday loans, meaning that you cannot roll the amount you owe on a payday loan into another payday loan to extend the repayment period. After 45 consecutive days of having a payday loan, you must wait at least seven days before you are allowed to take out another payday loan.
Legal Limits
Illinois laws limit payday loan fees to no more than $15.50 per $100 borrowed. Illinois does not allow payday loan lenders to bring criminal charges against people who fail to repay their payday loans. If you are having trouble repaying the loan, you can request a repayment plan after 35 days. Lenders cannot sue you until 28 days have passed since the end of the loan term or repayment period. In addition, lenders cannot be awarded damages to cover attorney's fees and court costs nor can they seize your personal belongings.