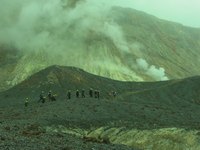 According to the U.S. Geological Survey, the Hawaiian Islands began forming 70 million years ago from the constant eruptions of a chain of volcanoes. Each island, in fact, is made up of several different volcanoes. For those wondering which Hawaiian Islands have volcanoes, the U.S. Geological Survey keeps tab of volcanoes in the area and issues alerts and updates for each one. With a few exceptions, most Hawaiian volcanoes have either been dormant for thousands of years or are extinct and no longer pose a threat.
Hawaii
Hawaii is home to six volcanoes: Lo'ihi, Kilauea, Mauna Loa, Kohala, Hualalai and Mauna Kea. Kilauea is the youngest of the group and probably the most studied. It began erupting in January 2003 and, as of May 2010, is still constantly doing so. Mauna Loa is the largest volcano in the world, making up half of the Island of Hawaii and 85 percent of all the other Hawaiian Islands. It is expected to erupt again, so it's constantly being monitored. Kohala is Hawaii's oldest volcano, though there hasn't been an eruption in more than 120,000 years. Lo'ihi, Hualalai and Mauna Kea have also been quiet, though each one is monitored for changes.
Maui
Two volcanoes are on the island of Maui. The Haleakala Volcano forms the Haleakala National Park. There are more than 24,000 acres of wilderness areas here, where you can hike and camp out. Scientists estimate that Haleakala hasn't erupted since somewhere between the mid-1400s to around 1600, but they don't dismiss it as dormant. The West Maui Volcano is the smaller of the two on Maui. It is considered to be extinct and is often referred to as the West Maui Mountains.
Molokai
Molokai is the fifth largest Hawaiian island. It has the West Molokai Volcano and the East Molokai Volcano. Spanning three miles long, Papohaku Beach on West Molokai is one of the largest white sand beaches in all of Hawaii. However, because Molokai is a less populated island, there aren't many visitors here. The East Molokai Volcano comprises two-thirds of the island of Molokai. Both volcanoes are extinct.