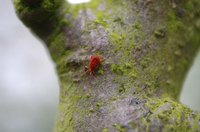 According to the Illinois Department of Public Health, "there are nearly as many different types of mites as there are insects." Some mite species prey on humans, while others live off of plants, animals or other insects. The most commonly encountered mites include scabies, clover mites, chiggers, dust mites, itch mites, rodent and bird mites. Some mites, such as chiggers, affect only the surface of the skin. These non-burrowing mites simply bite the skin, feed on it and then detach themselves and fall off. Burrowing mites, such as scabies, can cause more widespread irritation, since they actually burrow underneath the skin.
Topical Creams
Topical creams are often prescribed to relieve itching symptoms associated with mite bites. Topical creams used to treat mite bites are usually corticosteroids such as permethrin, sulfur creams or lindane. Most creams require application a few times a day to affected areas, but be sure to read product labels for special instructions.
Oral Medications
In some cases, oral medications are needed to treat mite bites. Oral medications will help relieve the sometimes severe itching associated with the bites, and are prescribed by doctors. Over-the-counter antihistamines such as Benadryl and Tavist may also help to ease the itching, particularly at night, when mites are often most active and itching is most severe.
Alternative Treatments
A few simple home remedies may help control the itching caused by mite bites. For example, taking a warm bath will remove chiggers and stop any bites before they start. For those who wish to avoid permethrins--which are insecticides commonly used to treat scabies--there are a number of more natural treatments available, including Dermisil, a homeopathic remedy that uses only 100 percent natural extracts.
Prevention
Mite prevention will discourage future problems and eliminate any mites that may still be living in the home. Wash bedding at least once a week in hot water to kill any mites or mite larvae. Vacuum carpets and upholstery regularly and eliminate entry points for clover mites or chiggers. As noted by the Illinois Department of Public Health, mites thrive in humid conditions, so be sure to maintain a relative humidity of no more than 50 percent in the home for optimal mite control.