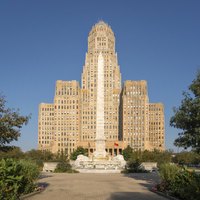 Although Buffalo, New York, is a bustling metropolis home to renowned museums, world-class architecture and major sports teams, the city offers the sort of affordability that's often difficult to find in other big cities. The Buffalo region also provides a host of free activities.
Green Space
A cemetery may seem like an odd tourist destination, but the 269-acre Forest Lawn draws visitors because of its natural beauty, including the 6.5-acre meadows, a wide open space free of burial plots and dotted with Victorian gazebos. In addition to the burial sites of numerous Buffalo mayors and President Millard Filmore, the cemetery includes works of art such as the famed sculpture of Seneca Indian chief Red Jacket and Frank Lloyd Wright's Blue Sky Mausoleum. Delaware Park is a massive 350-acre space where you can stroll through rose and Japanese gardens, dense forests and the shores of Hoyt Lake. During the summer, the park stages free outdoor Shakespearean performances.
Museum Mania
The Albright-Knox Art Gallery is a fine-arts museum established in 1862. The institution specializes in American and European art, highlighting works by luminaries such as Andy Warhol, Jackson Pollock, Vincent van Gogh, Henri Matisse and Pablo Picasso. Access to the museum is free to the public on the first Friday of every month. Celebrate the lives of heroic first responders at the Buffalo Fire Museum. Exhibits showcase gear, tools, uniforms and modes of transportation belonging to local, national and international firefighters. The free museum is open on Saturdays.
Building Blocks
Soak up Buffalo's architectural marvels including its city hall built in 1932. The 28-story, Art Deco building is made of limestone and granite, has a grand entrance marked with eight columns and includes detailed friezes depicting life in the big city. Free weekday tours are available in the afternoon, during which you'll explore the lobby, its three-story vaulted ceilings and council chambers with mosaic tiled ceilings. Our Lady of Victory National Shrine and Basilica is an ornate 1925 cathedral. Enormous bronze doors open to the church's interior, where you can gaze upon stained-glass windows and a nearly 120-foot-tall dome with lavish murals. Public tours, available on Sunday afternoons, are free but donations are accepted.
North to Niagara
Make your way to Niagara Falls, just 25 minutes north of Buffalo. Access to the 400-acre Niagara Falls State Park, located on the U.S. side of the falls, is free. Traverse the park's approximately 15 miles of hiking trails and enjoy views of the surrounding falls, river and gorge. Tucked away on the Canadian side of the Niagara River, Dufferin Islands combine for 10 acres of green space connected by foot bridges and pathways. Enjoy walks through the man-made islands filled with wildlife and wooded regions. From November through January, the islands host the Winter Festival of Lights, when the islands are decorated with elaborate Christmas-light displays.