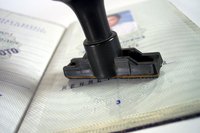 Travel requirements for crossing the U.S. and Canadian border have changed in recent years due to homeland security measures, but it is still a relatively easy process for those with proper documentation. All travelers entering the United States must have a valid passport or passport card, while entry requirements in Canada are less strict and dependant on the traveler's country of citizenship.
U.S. Passport Requirements
Under the Western Hemisphere Travel Initiative, U.S. citizens may secure a Passport Card for land or sea travel between the U.S. and Canada, Mexico, Bermuda, and the Caribbean. According to the U.S. State Department, all people traveling by land, sea, or air out of the United States must present a traditional passport or a passport card and/or other required documents for entry or re-entry into the country. This means that citizens must present a passport or a passport card, and permanent residents of the United States must present a Green Card when going through U.S. customs from Canada. Citizens of other countries must present a valid passport, and if necessary, a visa.
Canadian Passport Requirements
Traveling into Canada, U.S. Citizens are not required to present a passport to Canadian authorities. According to Canada's Border Agency, "a citizen of the United States… does not need a passport to enter Canada. However… carry proof of… citizenship, such as a birth certificate, certificate of citizenship or naturalization, as well as photo identification." Permanent residents of either the United States or Canada must present a Permanent Resident Card. The Canadian government highly recommends that Canadian citizens travel with a valid Canadian passport, even though it is not strictly required for entry or re-entry into their country. Some Canadian citizens are accustomed to entering Canada with a birth certificate or a driver's license, but not having a passport can result in travel delays.
U.S. Passport Exceptions
According to the U.S. Department of Homeland Security, "U.S. and Canadian citizen children under age 16 arriving by land or sea from contiguous territory may also present an original or copy of his or her birth certificate, a Consular Report of Birth Abroad, a Naturalization Certificate, or a Canadian Citizenship Card." Also, U.S. and Canadian citizen children under the age of 19, who are also entering the U.S. by land or sea, from a shared-border country and traveling with a group (sports team, school group, religious group) may also use a birth certificate, etc, in lieu of a passport.
Entry Refusal
There are various reasons that immigration or customs on either side may refuse entry to a traveler with a valid passport. Both U.S. and Canadian immigration might refuse entry if the authorities suspect a traveler to pose a public health risk, if the traveler has committed a crime punishable by 10 years in prison or is known to have committed crimes against humanity (war criminal), or is suspected of past or possible future terrorist activities (including belonging to known terrorist organizations). Customs may hold travelers who have lied about carrying contraband and ultimately refuse entry, depending on the offense.