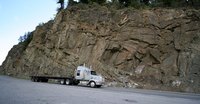 Starting a trucking company requires some preparation and planning. The Federal Motor Carrier Safety Administration (FMCSA) has strict regulations mandated for companies that wish to become New Entrants in the trucking industry, and prospective company owners need to be aware of the rules governing the industry. The trucking industry is essential to the national economy and touches every consumer's life at one point or another, because virtually every product travels by truck.
New Entrants Safety Assurance
Compliance with the New Entrants Safety Assurance audit system became mandatory on December 16, 2009. According to the Federal Motor Carrier Safety Administration, this process "identifies 16 regulations that are essential elements of basic safety management controls necessary to operate in interstate commerce and makes a carrier's failure to comply with any one of the 16 regulations an automatic failure of the safety audit." The agency rules also state that new motor carriers will be subject to expedited actions if certain violations occur during a roadside inspection or weight station inspection. Additionally, the agency inspects carriers for compliance with, "certain household goods-related requirements," and with the Americans with Disabilities Act. The purpose of the regulation is to assist the agency identify potential at-risk carriers and correct deficiencies prior to issuing a permanent registration.
Local, State and Federal Applications
While the Federal Motor Carrier Safety Administration oversees the trucking industry on a national and international level, local and state agencies may require adherence to specific regulations for the legal operation of a trucking company within their borders. Motor carriers that intend to conduct business in interstate or intrastate highways should contact the State Department of Transportation for specific requirements. Motor carriers must comply with all laws governing operations in every state in which they operate.
Operating Authority
Commercial motor carriers must submit an application to the Federal Motor Carrier Safety Administration for one or more operating authorities. The rules governing required operating authority pertain to what services the trucking company intends to offer to the public. For example, if the motor carrier also intends to operate as a freight broker, an additional operating authority for that business is required. The registration process uses a self-classification system to help potential companies determine which operating authorities are required.
USDOT Number
In accordance with the Federal Motor Carrier Safety Administration rules, commercial motor carriers must pay a filing fee and file an application for a USDOT number and operating authority. The Federal Motor Carrier Safety Administration issues USDOT numbers and grants operating authority prior to a business starting operation.
Additional Considerations
In addition to legal considerations, an individual or company wishing to start a business in the trucking industry should research the day-to-day operational requirements of running such a business. Some things to consider are qualified drivers, availability of freight or passengers, insurance requirements and management staff. In addition, the company should investigate available options for leasing or purchasing equipment and financing.