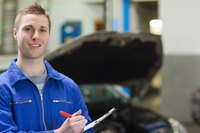 Working in a machine or maintenance shop invariably requires the frequent use of hand and power tools. Anyone who works in an environment which requires the use of power equipment, tools or machinery should be properly trained in all aspects of safe operation. A shop safety inspection checklist helps shop managers protect their employees and maintain a safe work environment.
Personal Protective Equipment
Although different shops use different names, most have a program in place for providing employees with personal protective equipment. Each person working in a shop should have at least the following equipment available at all times: safety glasses (including goggles rated for chemical spills when needed), gloves, ear plugs, aprons, steel-toed boots, respirators/dust masks, hard hats and a safety harness when working in lifts or cranes.
General Shop Safety
Shop personnel should follow certain procedures to maintain a safe work environment. Always clean up all spills, keep aisles clear of equipment or debris, and clean the work area at end of the day. Use proper ventilation and make sure all work areas are well-lit. Store heavy items on low shelves and light items on higher shelves. Have a first aid kit accessible and post safety instructions for all equipment and procedures when applicable. Make sure all fire extinguishers are accessible and inspections are current, and that safety signs are posted and legible. Ensure that all emergency exits are clearly marked and unobstructed.
Equipment Safety
All equipment and tools have the potential to be dangerous. Always check to be sure safety shields and guards are in place and working properly. Regularly inspect and test all emergency stops and shut-off devices. Keep all electrical boxes and circuit breakers accessible and inspect all cords to ensure insulation is in good condition. If equipment needs repair, always do so before using it.
MSDS & OSHA
It is important to ensure that all material safety data sheets are available to all employees at all times. Under the federal Right To Know Act, this information is required by law to be accessible to any personnel working with hazardous materials. Occupational Safety and Health Administration regulations should also be posted where all personnel have access.