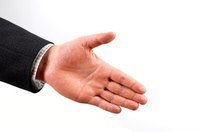 A limited liability corporation (LLC) is a type of business setup in which the corporation is a separate legal entity from the owner (or owners), thus limiting individuals from damage and liability if the company goes bankrupt, gets sued or has some other type of catastrophe take place. An LLC is very flexible, and LLC companies can have very different setups when compared to one another. While all of them are LLCs, these setup options make this type of corporation a favorite among most entrepreneurs.
LLC Sole Proprietorships
An LLC can be filed by an individual who intends to run the company like a sole proprietorship and act as the sole owner, boss and manager. The reason an individual chooses an LLC instead of sole proprietorship is protection. With a sole proprietorship, the individual is 100 percent responsible for damages that may occur and can lose everything due to a lawsuit. An LLC setup prevents the owner from being liable most of the time. The business might be lost in a worst-case scenario, but personal possessions are protected. This security is one of the biggest reasons why individuals who plan to run their companies completely solo still file for an LLC.
LLC Partnerships
An LLC is a common way to form a business that is a partnership between several individuals. One individual must be chosen as the operating manager, and the exact level of voting or control is established in the articles of operation. Aside from the major protection that an LLC offers, it also simplifies the tax situation. In a partnership LLC, taxes are not levied on company assets, but each individual pays their own taxes based on their salary from the company. This way, there isn't a double taxation or worrying about having company funds—each individual only has to worry about taxes on his own pay.
LLC C Corp or S Corp
An LLC can take a traditional corporate structure as either a C Corporation or an S Corporation. Administratively, LLCs formed as one of these two corporations must hold elections among shareholders to form boards, and the manager is selected by the shareholders, as well. A C Corp can end up with double taxation, on the company income and on dividends to the shareholders. LLCs that are a C or S Corporation have the ability to sell stock, although IRS regulations exist on how that can be done and what the limitations are.