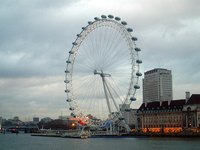 London is home to several world-famous tourist sights, from the London Eye to the Natural History Museum. The ancient city features a blend of old and new--be sure to take in the modern culture with a trip to one of its many pubs. Also, be sure to plan to stay several days. London is a massive city spread out over 659 square miles!
London Eye
The London Eye is a world-famous ride in downtown London. Each of the 32 capsules carries up to 10,000 guests each day. Guests will experience a 360-degree view of the city from the highest point. Tickets are best purchased online if you wish to avoid waits as you are assigned a specific time frame.
Buckingham Palace
Buckingham Palace is the home of England's most famous resident: the Queen. Enjoy a changing of the guards, an incredible display of discipline and tradition, which can be viewed each day. Tours of the palace are available upon a first-come basis at a fee.
Tower of London
The Tower of London is a world-famous castle in the heart of the city. Tours are available at a fee. Guests will see the underground prisons, armory, and an on-site zoo. A popular sight at the Tower of London is Her Majesty's Crown Jewels, on display in the center of the fortress.
Saint Paul's Cathedral
Constructed in the 17th century, Saint Paul's Cathedral is located on Ludgate Hill in London. Tours are available at a fee whereas religious services are available at no cost.
British Museum
Home to artifacts from around the world, the British Museum is a must-see for any history buff. The museum's collection includes the Rosetta Stone and ancient Egyptian relics. The museum opened in 1753 and is home to over 7 million artifacts.
Natural History Museum
London's famous Natural History Museum features a broad range of displays, ranging from dinosaurs to marine animals--all located in an old-world Victorian building. Tickets are free of charge for basic entry; however, special displays require a fee.
Houses of Parliament
Situated in downtown London, the Houses of Parliament are one of the oldest political structures in the world currently in use. Spread over 1,200 rooms, this massive structure maintains a large presence in the heart of the city. Tours are available at specific times of the year, with each tour lasting around 75 minutes.
Harrods
Harrods is a luxury store situated in Knightsbridge, London. This department store features high-end goods with products ranging from clothing to chocolate. Be sure to bring a high-limit credit card as Harrods is one of the most expensive stores in the world.
Thames River Cruise
Several cruises head along the Thames River, which runs through the heart of downtown London. They provide a great opportunity to visit the city's sights. Guests will have an unrestricted view of Big Ben, the Houses of Parliament, and the London Eye, among other sites. Cruises are also a great opportunity during the summer months, as temperatures will be significantly lower on the water.
Hit the Pub
No trip to London is complete without experiencing a traditional English pub. Choose between your favorite brew or experience one of the local favorites. Food at London's pubs ranges from basic to quite good. Be sure to do a little research and find a location off the beaten path before you make a decision.