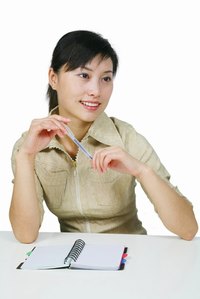 Some employers think that after the hiring process is completed, the main work is done. After all, so much time is spent going through applicant resumes, interviewing candidates, checking references and making the job offer. However, after this long process ends, a new one begins—the onboarding procedures. One way to make these procedures go more quickly and smoothly, as well as ensure you don't overlook any important details, is to use a new employee orientation checklist.
Pre-Arrival Items
Many checklist items need to be completed before the new employee arrives to work on the first day. Some of these items may include Intranet and system passwords creation, creating his company email address, and setting up security clearance privileges for parking and building entrances. There are specific forms the new employee may complete before he starts, such as the I-9 and W-4, and many companies mail these in a welcome kit along with the official offer letter, job description, company policies and handbook, and compensation and benefits information. Other items on the checklist that may be completed before the first day include setting up his workspace, telephone, computer and office, as well as ordering business cards, office keys and nameplate. Some managers go ahead and schedule all training sessions as well.
First Day Items
When the employee arrives on the first day, greet her at the entrance and welcome her to the company. Introduce her to her co-workers, and give her a tour of the office. Review all the welcome kit information, such as company policies, new-hire forms and job description. Most new employees sit down with the human resources coordinator to go over vacation policies and other benefits, such as health insurance and 401K information. Managers often go over the new employee's department relationship with other areas of the company. Tell the new employee what her training schedule and first week will look like.
End of the First Week Items
At the end of the first week, schedule a meeting with the new employee to go over the week's activities. Review the company mission statement and guiding principles with him. Ask how training has been and go over any trainer's feedback with him. Go over the payroll procedures, such as timesheets and pay schedule, and discuss performance expectations.
End of the First Month Items
Most new employees complete the majority of their training within the first month. By the end of this time, the employee should be acclimated to her new position, co-workers and company. Ask her how the process was for her and for ideas to make it better for future employees. Review any concerns you may have to ensure the employee stays on track.