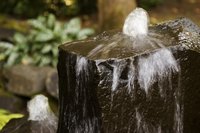 Whether you're trying to create harmony in your back yard with feng shui or you just like the look, adding a water feature to your yard can help beautify your landscape and increase your home's curb appeal. A popular landscaping choice, outdoor water features include fountains, ponds, streams and other water elements that can make your yard more appealing and enjoyable.
Create a Pool
If you're looking for a water feature that won't require a constant water source, a pool might be the option for you. Ranging in size from about 2 feet across to over 10 feet, a small pool or pond can be installed in your yard in just a weekend and can be placed almost anywhere. For a simple install, purchase a prefabricated, plastic landscaping pool from your local home improvement store. For the finishing touch, place rocks around the edges of the pool. If your pool is large enough, add a few fish for effect.
Add a Fountain
Large fountain water features can be pricey, but smaller options are far less expensive. With a little bit of work, you can create a fountain water feature for under $80. In a small space, try a simple, spherical fountain made from terra cotta. For a larger space, think about creating a bird bath-type fountain or a cascading wall fountain out of large rocks or landscaping rocks; but if you decide to use landscaping rocks, be sure to check the price tag—they can get expensive.
Create an Illusion
If you don't have water running to the section of your yard where you want your feature or you don't want to add to your water bill, you can create the illusion of water in your yard. Using tumbled, round stones, create a riverbed in the middle of a flower bed to mimic a small stream, or add a long riverbed stream along the side of your property. For a different look, built-up rocks in damp areas can also be made to look like a perpetual waterfall.