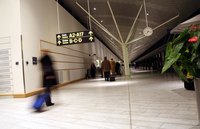 The Sacramento International Airport is a regional airport located 12 miles northwest of Sacramento, the capital of California. Travelers must follow strict luggage, or baggage, rules that are established by the airport and airlines. They must also adhere to regulations set by the Transportation Security Administration (TSA), which is responsible for federal airport security. Rules continually change, so travelers should check with the airport or their airlines before their trips. Travelers can visit the TSA's website (tsa.gov) to learn about up-to-date restrictions.
Checked Luggage
Airlines allow passengers to check in luggage at curbside counters, ticket counters or airport kiosks. Each bag must have a tag with the name of the owner on it, and the name must match the name on the baggage claim check.
All airlines have size and weight restrictions for checked luggage. Each airline has its own rules for overweight and over-sized baggage as well as for the number of checked-in items that a passenger may have.
Carry-On Bags
Passengers may carry one piece of luggage each aboard an aircraft as long as it can be placed beneath a seat or in an overhead compartment. A carry-on bag must not be larger than 22 inches tall, 14 inches wide, and 9 inches deep. It must also not be over a certain weight that varies with each airline. Along with their carry-on bags, passengers may bring on board one personal item, such as a purse, briefcase, diaper bag, camera bag or laptop computer.
Liquids, Gels And Aerosols
Passengers are limited on the amount of liquids, gels and aerosols, such as toothpaste and cosmetics, that they can pack in their carry-on bags, according to TSA regulations. Every item must be packed in a three-ounce or smaller container, and all items must fit in a one-quart clear plastic bag. Prescriptions, over-the-counter medications, baby formula and other essential items needed by passengers are exempt from the three-ounce, one-bag rule. Passengers must declare these items to security officers at the security checkpoint.
Batteries
Loose batteries must be put in protective cases and placed in carry-on bags. Batteries should not come into contact with jewelry, keys, or other metal objects.
Banned Items
According to TSA regulations, knives, cutting instruments, scissors and other sharp objects are prohibited from being carried aboard aircraft. Firearms, ammunition, sporting goods, certain tools, and martial arts and self-defense items also are not permitted. However, all of these items may be part of checked luggage. Explosive materials, flammable items, and hazardous materials are not allowed in either carry-on or checked luggage.
Take Care of Possessions
Travelers are responsible for their luggage at all times. They must not ask strangers to watch their luggage and other items. Additionally, they must refuse to hold items for strangers or to carry items on board airplanes for strangers or people they know.
Bags left alone, even for a few minutes, can be tampered with, vandalized, or stolen. All unattended luggage found in Sacramento International Airport will be searched and removed by airport security.