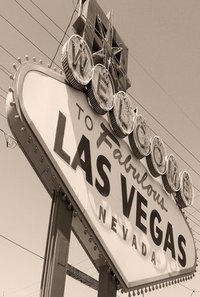 If travelers are visiting Las Vegas but they haven't reached 21 yet, they shouldn't despair. Las Vegas still has a few dance club options to offer underage patrons so they can enjoy the club scene in true Las Vegas style with their choice of two hot venues located right on the strip and one underage dance club just 10 minutes away. Young adults can spend an evening in each or choose their favorite to and dance the night away in Las Vegas.
House of Blues Las Vegas
The House of Blues features live music and DJ-music for those under 21 to dance the night away. The House of Blues is located inside the Mandalay Bay Hotel on the Las Vegas strip and also has a restaurant in case the dancing makes guests hungry. The House of Blues has an ecclectic vibe and features 300 pieces of folk art and a mural comprising more than 50,000 bottle caps over the front entrance.
House of Blues 3950 S. Las Vegas Blvd. Las Vegas, NV 89119 702-632-7600 houseofblues.com/venues/clubvenues/lasvegas/
The Joint
The Hard Rock Hotel Casino features the first rock n' roll club experience for Las Vegas with The Joint. The Joint is located inside the Hard Rock Hotel Casino and allows guests under 21 to enjoy live concerts Las Vegas-style. The Joint has a 4,000-person capacity with superior sound systems in place and three levels to choose from to view the show. Guests can order food and non-alcoholic beverages throughout the show.
The Joint 4455 Paradise Road Las Vegas, NV 89109 702-226-4650 thejointlasvegas.com
Club Frozen 75
Club Frozen 75 is an underage dance club perfect for those under 21 who want to have a Las Vegas-style experience. Club Frozen 75 requires club goers to wear "sexy club attire" and bans sports wear and plain T-shirts. It has VIP rooms available for rent for birthdays, graduations and private parties. Parents are welcome to come and check out the facility prior to dropping off their teenagers. Club Frozen 75 is located 10 minutes from the Las Vegas strip.
Club Frozen 75 4427 East Sunset Road Henderson, NV 89014 702-387-0075
clubfrozen75.com