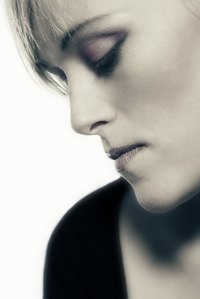 The thyroid is a small gland at the front of your neck that secretes hormones that regulate your metabolism. A slow thyroid, also called an underactive thyroid or hypothyroidism, is a condition where your thyroid gland does not produce sufficient hormones. A slow thyroid can make you feel sluggish, gain weight and experience other signs and symptoms.
Fatigue and Weight Gain
When your thyroid is slow, it also slows down your metabolism. This can cause you to feel fatigued all the time. You may also gain weight even though your appetite is decreased. Additionally, you may feel sluggish and have impaired mental function, such as trouble concentrating and remembering things.
Muscle Aches
An underactive thyroid can cause pain in your muscles and joints. This may manifest as aches and stiffness. Your muscles may also feel weaker than normal, and you may experience cramps and numbness. The University of Maryland Medical Center says that people with a slow thyroid are more prone to arthritis and carpal tunnel syndrome.
Skin and Hair Changes
Changes to the skin and hair are common in people with a slow thyroid. The skin may become dry and rough and appear pale. Your skin may also become more sensitive to cold, and you may sweat less. Hypothyroidism can cause your hair to become thin and brittle, and it may even fall out. Your nails may become brittle, too.
Sexual Irregularities
The thyroid plays a role in regulating sex hormones; so when it doesn't function properly, it can cause a host of sexual symptoms. Women with an underactive thyroid may have irregular menstrual periods and a deeper-than-normal voice. A slow thyroid can cause both early or delayed puberty in boys and girls.
Other Symptoms
Additional symptoms that can be caused by a slow thyroid include: a puffy face, headache, depression, constipation, high cholesterol, hearing loss and sleep apnea. Children with hypothyroidism may experience some different symptoms, including: stunted growth, learning disabilities, delayed teething and jaundice.