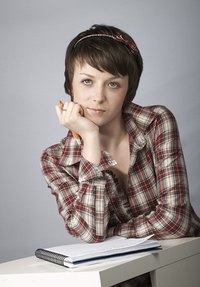 According to an article published in the newspaper Philadelphia Inquirer, a total of 30,000 teenagers from foreign countries come to America to study each year. To control the influx of students, the U.S. government has imposed some strict regulations to ensure that American taxpayers are not footing the bill for these foreign students. In order to study in the U.S., students must meet certain requirements.
Pay Tuition
The U.S. Department of State asserts that foreign students with a F-1 visa who wish to attend a public high school in America must pay tuition. A school district is not allowed to waive the cost of tuition. This cost can be quite a deterrent for foreign exchange students, as the U.S. Department of State says that the price of tuition at a public school ranges from $3000 to $10,000 for one year. Tuition can be even higher for exchange students attending private schools. According to Educational and Cultural Interactions, Inc., tuition at a private school can be anywhere from $6500 to $18,000 per year.
Maintaining Medical Insurance
Foreign exchange students must have medical insurance that meet the minimum coverage requirements according to part 62 of the Electronic Code of Federal Regulations. The minimum requirements include $50,000 per accident or illness, $7500 for repatriation of remains, and a deductible lower than $500. Typically, the student must secure insurance through an American company or provide a bank statement showing sufficient funds to cover the costs associated with a medical emergency. Some schools have designated a staff member or department to assist international students who are trying to secure insurance through a private company. For example, the University of Arizona has an International Insurance Program Coordinator stationed in the school's Health Center.
Registering with SEVIS
According to U.S. Immigration and Customs Enforcement, foreign students are required to register with the Student and Exchange Visitor Information System (SEVIS). Then school officials must confirm all information entered into SEVIS. If anything changes during the time that the student is studying in America, such as personal address or graduation date, he must contact SEVIS to update this information.