Fireplaces are a primary focal point in any room and provide ample space to display stylish holiday decorations. You can decorate the mantle, sides, chimney and/or firebox to create as simple or elaborate a design as desired. A non-working fireplace can use any decorative materials and any design. However, if you plan on lighting fires in the fireplace, then you need to keep safety in mind when choosing your decorative materials and designs. For example, flammable decorations hanging down in front of the firebox are a disaster waiting to happen.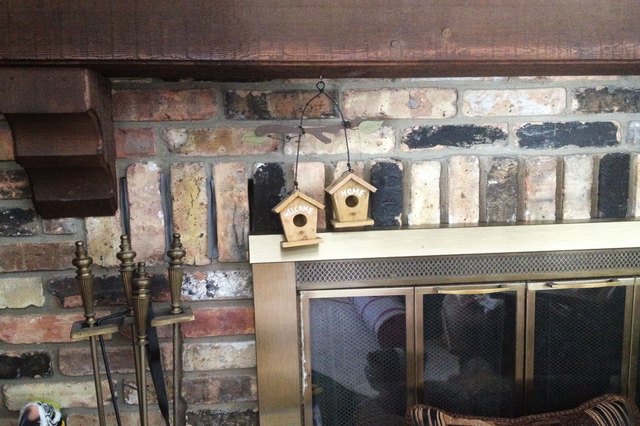 (Sarah Stankey/Demand Media)
Use natural materials and themes to decorate your fireplace with an earthy style. A medium-size, cut-glass pedestal bowl filled with small pinecones and fresh cranberries adds a splash of color to the middle of the mantle. Wrap an evergreen and cranberry garland around the base of the bowl and each orange to help accent the bold colors. Small, evenly spaced oranges decorate the remaining mantle area.
Sarah Stankey/Demand Media
Combine glass ball ornaments and silver beads to decorate your fireplace with a modern Christmas style. Strands of thin, round, metallic silver beads create small swags across the front of the fireplace mantle and outline the top of the mantle. Place a large red poinsettia in a silver bead-wrapped plant pot and sit it in the silver bead-trimmed firebox to add a hint of color near the floor.
A large, rectangular, clear glass vase provides a base for the central mantle decoration. Small silver beads, medium frosted-glass ball ornaments and medium red glass ornaments fill the vase to create a random pattern for the centerpiece. A round red candle in a rectangular silver candle holder decorates each end of the mantle for a crisp accent.
Sarah Stankey/Demand Media
Keep things simple to create a sleek and stylish Christmas look for your fireplace. A large golden wire star hanging above the mantle and a small golden wire star on each end of the mantle provide a touch of sparkle to the fireplace. Three white, star-shaped votive candles in golden holders on the middle of the mantle complement the minimalist stars and create a sense of warmth when lit.
Sarah Stankey/Demand Media
Stick with stockings, evergreen and ribbons to decorate your fireplace with a traditional style. Stockings hanging in a row along the front of the fireplace provide a quintessential Christmas touch. An evergreen and red ribbon garland draped over the sides and front of the mantle covers the hooks used to secure each stocking.
An evergreen and gold berry wreath sitting flat on the middle of the mantle creates a colorful outline for the mantle centerpiece. The centerpiece consists of a tall, thin, clear glass vase filled with large green and red beads. Three golden angle figurines decorate the mantle area to the left of the centerpiece and three more decorate the area to the right.
Sarah Stankey/Demand Media
Promoted By Zergnet