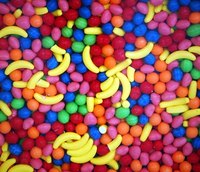 The American diet goes through trends that swing back and forth between high carbohydrate and low carbohydrate consumption. According to the Harvard School of Public Health, while some carbohydrates, such as added sugar, can contribute to weight gain, there are technically no bad carbohydrates. Scientifically carbohydrates break down into sugar, the main energy source for all the function of your bodies.
Simple Carbohydrates
Simple carbohydrates are made up of single sugars that enter your blood stream with minimal effort from your body. Candies, white table sugar and sodas are all examples of foods with simple carbohydrates. Even though we typically associate simple carbohydrates with foods like candy and soda, which have little nutritional value, simple carbohydrates are not necessarily bad. According to the National Institutes of Health, nutrient-dense foods like fruits, milk and many vegetables are also examples simple carbohydrates.
Complex Carbohydrates
Complex carbohydrates, according to he Harvard School of Public Health, contain three or more linked sugar molecules. They're called complex carbohydrates because the body has to break the linked sugars apart before they're small enough to enter the cells. They typically take longer to digest, which helps you stay full longer. Examples of complex carbohydrates are bread, whole grains, beans and nuts, starchy vegetables, crackers and cereals.
Fiber
Fiber is a type of carbohydrate that our bodies cannot break down. Rather than getting absorbed by our bodies, fiber travels though our bodies without being digested. This doesn't make it a useless carbohydrate, though. It helps control blood sugar, cholesterol levels and digestive regularity, according to the Harvard School of Public Health. Examples of high fiber foods include ground flax seeds, whole grains, some fruits and vegetables.