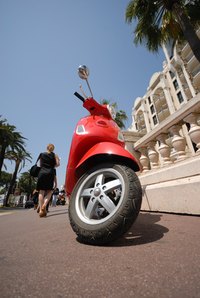 Darting between tourist attractions on a scooter with the balmy ocean air on your face could be the best possible way to explore Mexico's beach cities. You already know that it's vital to obey all posted speed limits and traffic laws (whether or not the locals seem to be paying attention to them), but you must know the other requirements for renting a scooter in Mexico. Make sure that when driving a scooter in Mexico that you know enough to ensure a basic level of safety and savvy.
Age
In general, a driver must be at least 21 years old to rent a scooter in Mexico, but many rental companies require all drivers to be 25.
Helmets
Though rental companies often provide helmets to renters, this isn't always the case. If you aren't issued a helmet with your rental, be aware that there is a strictly enforced helmet law in place. You must wear one, even if it's not technically a motorcycle helmet. Even in the absence of such a law, it's important to wear a helmet for safety while riding.
Insurance
American liability insurance is invalid in Mexico. Luckily, Mexican insurance is purchasable at a low cost (about $10 to $15 per day, depending on the provider) and covers liability (including any necessary legal assistance) in the event of an accident. The daily rate decreases if negotiated for longer stays. You can purchase Mexican insurance in any border town. Know that Mexican auto insurance is automatically rendered invalid if you're found to be even slightly under the influence of drugs or alcohol while operating the scooter.
Documentation
Any person renting a scooter in Mexico needs to hold a valid, regular drivers license from their home country and a valid passport. In order to ensure that your Mexican auto insurance will cover you in the event of an accident, you must obtain a Tourist/Business Visitors Visa (also known as an FMT tourist permit), which legally documents your ability to be in Mexico for up to 180 days. You may pick up an FMT permit at road border crossings, airports, or at the Consulate of Mexico.