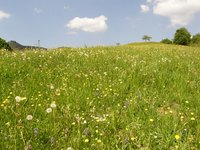 Minnesota is known for its abundance of inland lakes. However, the geography of this state also features expansive prairies, jagged cliffs, thick forests and rocky shoreline, all of which provide ample landscape photography opportunities. Many of the best locations for landscape pictures in Minnesota are in state parks or along Lake Superior.
Gooseberry Falls State Park
Gooseberry Falls State Park is located about 30 miles northeast of Duluth in northern Minnesota. The park, which covers 1,675 acres, is situated on Lake Superior, and features a shoreline marked by steep cliffs and rocky formations. Trails through the surrounding woods are lined by aspen and birch trees, wildflowers and shrubs. Along the trail, visitors will find five waterfalls, providing excellent photo opportunities. Gooseberry River winds through the forest, connecting waterfalls and leading to the lake. Some of the more popular locations for landscape photographs at Gooseberry Falls State Park are from atop the rocky cliffs or beside one of the rushing waterfalls.
Gooseberry Falls State Park 3206 Hwy. 61 E. Two Harbors, MN 55616 218-834-3855 dnr.state.mn.us
Sugarloaf Cove
Sugarloaf Cove is on Lake Superior in northwest Minnesota. Formerly the location for Consolidated Paper Company log rafting operations, the area now boasts a one-mile trail leading through thick forests filled with birds and wildflowers. Panoramic photographs of the Lake Superior shoreline are available from Sugarloaf Point. This lakeside location offers a flat beach with polished stones rather than the jagged cliffs found in other Lake Superior shoreline areas in the state.
Sugarloaf Cove 9096 Hwy. 61 Schroeder, MN 55613 218-525-0001 sugarloafnorthshore.org
Blue Mounds State Park
Blue Mounds State Park is nestled in the southwest corner of Minnesota. This location offers plenty of prairie landscapes to photograph. Visitors can explore the grassy plains, where they'll find an abundance of colorful wildflowers in late summer. Bison and deer are often seen roaming the prairie. The 1,826-acre park is also home to a 100-foot Sioux quartzite cliff that overlooks the prairie. Atop the cliff are rare prickly pear cacti that bloom with bright yellow flowers in early summer. Stunning aerial photographs are possible from atop the cliff, though photographers can also get top-quality shots among the tall grasses of the prairie.
Blue Mounds State Park 1410 161st St. Luverne, MN 56156 507-283-1307 dnr.state.mn.us