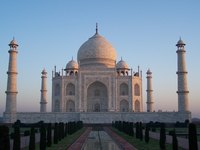 The 40th birthday is a milestone event that should be celebrated with friends and family. It's the point in life where people are established in their careers, their family is growing up and they are able to start participating in hobbies and events that they may have put off. Mark the importance of achieving many of your life's goals by age 40 by taking a vacation to celebrate.
Exotic Destinations
Whether you've put off indulging in your adventurous side for more practical pursuits, or want to make your 40th birthday vacation better than other recent vacations, it's common to choose an exotic destination for a 40th birthday adventure. Choose any of the Hawaiian islands or a Mexican beach for hours of surf and sand. Visit a part of the world with a rich history that has always fascinated you, such as Egypt, Vatican City, China or Australia. Allow yourself to explore famous wonders of nature, such as Costa Rica's rain forest, Iceland's thermal pools or Kenya's wildlife.
Heritage Destinations
At 40, you may have a pretty good idea of who you are and where you've come from, but this milestone birthday is a time to embrace your heritage. Plan a vacation to the homeland of your ancestors, whether they arrived in the 1700s or just a few decades ago. If your ancestry is European, plan to visit the country of your ancestors' origin, like Scotland, Italy or Germany. From the Czech Republic to Cambodia, Saudi Arabia to South Africa and Japan to Jamaica, your vacation will be even more enriched if you do a little genealogy to note specific sites that were important to your ancestors. For example, someone with Jewish ancestry may want to visit significant sites from the Holocaust.

Cruise Vacations
By the time you turn 40, you deserve a little rest and relaxation from the daily grind. Some people may want to take a vacation that simply allows a break from it all, and a cruise is designed to cater to that desire. With dancing, swimming pools, buffets and entertainment, a cruise vacation allows you to see fascinating locations on your own time, and lets you do as much or as little as you wish. Cruises to Mexico, Alaska, the Caribbean and the Hawaiian Islands are particularly popular for North Americans. A bonus is that cruises are some of the most affordable vacation options to exotic locales, according to vacationidea.com.