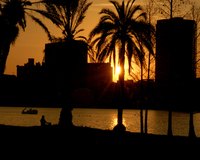 Orlando is the home of the Amway Arena, Bob Carr Performing Arts Centre, Tinker Field, the Florida Citrus Bowl and, of course, Disney World. There are limitless opportunities for fun and excitement in this popular city. Shop at a number of premium shopping destinations, dine at just about every type of restaurant imaginable and enjoy days by the water. If you are looking for a spicy adventure, you will appreciate the fact that Orlando is the home of a number of mature nightclubs.
Mako's
Mako's is known as a must-visit for those seeking mature entertainment. MTV featured the staff of this multilevel party spot on its show "The Wild Girls of Mako's." You must be 18 or older to get into Mako's and at least 21 to drink one of the club's fishbowl cocktails that are designed to blend well with barely dressed bartenders and waitresses and thumping dance and top 40 music spun by popular local DJs. Mako's is funky, a bit strange and very colorful. Ask about the club's VIP room if you are daring.
Mako's 27 W. Church St. Orlando, FL 32801 407-246-5079 anythinggoesatmakos.com
Pulse
The Jewel Box and Adonis are two different party areas at Pulse that are constantly bathed in colorful lights and exciting music spun by famous DJs. Pulse is known as a popular gay club, but it provides entertainment for everyone. In the Adonis room, you will often see bachelorette parties going crazy for over 20 muscled and oiled half-naked male dancers. The Jewel Box is a bit more eclectic. You might catch a rock band here or even a comedy show. You must be 18 to get into Pulse and over 21 to enjoy a long list of cocktails served with glowing ice cubes and other fun decorations.
Pulse 1912 S. Orange Ave. Orlando, FL 32806 407-649-3888 pulseorlando.com
Cowboy's Orlando
This popular country music-themed night club is known for its mix of country music and spicy entertainment. Waitresses that have once graced the pages of Playboy and Penthouse magazines serve a number of different beers and shots at Cowboy's as large crowds dance to live music while scantily clad dancers (male and female) dance table-side. Entertainment is featured every night of the week at Cowboy's, and on certain nights you can watch a sexy bikini contest or male hard body contest. Saturday nights are always popular at Cowboy's, when they serve longneck bottles of beer and give a free one for every one purchased.
Cowboy's Orlando 1108 S. Orange Blossom Trail Orlando, FL 32805 407-422-7115 cowboysorlando.com