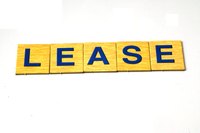 Many business owners choose to lease equipment rather than purchase it. The equipment needs for some operations may be extensive, and leasing equipment can often be the only way to obtain what is needed. Weighing the advantages and the disadvantages of leasing equipment will help a business determine whether leasing is the best choice.
Same Rate and Inflation Friendly
A lease on equipment for a business typically has a locked-in rate, keeping the monthly payment on the equipment the same throughout the term of the agreement. This fixed-rate financing allows for an inflation-proof remedy for the equipment needed since the company will be billed the same amount over the course of the years of the lease as opposed to paying constantly rising amounts.
Less Upfront Cash
One of the most attractive advantages of leasing equipment is the ability to keep the business more liquid. Since a lease requires far less upfront cash to obtain the equipment than an outright purchase, the company's cash flow is freed for other purposes.
Repair and Maintenance
Repairs and maintenance are significant expenses within most business climates, and a leased piece of equipment may help the business avoid these costs. In many instances the company that holds the lease covers the equipment in the event that the machine breaks down. The company will sometimes replace the machine or have it back to working order shortly. In addition, they will maintain the machine if necessary in some cases.
Most leases also have the advantage of offering upgrades to the latest models so that the technology a business uses is never out of date.
Tax Benefit
Some types of leases can be counted as a business expense for tax purposes. These qualifying amounts can be deducted at the end of the tax year to lower the tax liability for the business, meaning it owes less money to the IRS.
More Money Over Time
The downside to most lease agreements is that the business will actually pay more for the product in the long run. In the event of lease-to-own agreements, the interest added to the payments made throughout the years the equipment was leased is considerably more than the amount the business would have paid had it purchased the equipment outright.
Breaking A Lease
In some cases a company may lease equipment and then find a great deal on similar equipment elsewhere. In order to purchase the new equipment they will need to terminate the lease. Unless the terms of the lease specifically allow the business to break the lease at any time, it may be forced to pay penalties for doing so.