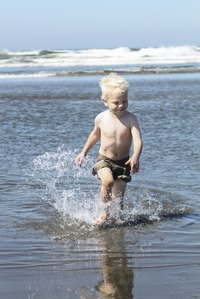 Real estate firms, property management companies, a local inn, a campground and a beach-house company lease cabins to Ocean Shores visitors. Travelers also may browse vacation-rental websites that list individually owned cabins in this city on a peninsula facing the Pacific Ocean.
Bungalows by the Beach
Ocean Shores-based Laurie Christian Real Estate leases four cabins. Each is a short walk to the beach in one direction, and the city's shops, restaurants, a bowling alley and movie theater in the other direction, according to the company. Each pet-friendly cabin is 432 square feet in size with a living room that has a sleeper-sofa, a loft with a queen-sized bed and a fully equipped kitchen. Each has Wi-Fi access and a television with cable service.
Cabins With a View
Ocean Shores Property Management rents one cabin that has been split into upper and lower rental units, which have ocean views. The lower one-bedroom unit has a sleeper sofa in the living area, and the upper unit has two bedrooms. Each has a kitchen and propane stove. Pets are welcome. Renters share access to a hot tub located on the grounds.
Rick's Beach Houses
Rick's Beach Houses rents cottages and chalets near the beach. One three-bedroom cottage has a fenced yard and hot tub, two bathrooms and a full-sized kitchen. The nine chalets that make up this company's Chalet Village are one- and two-bedroom cabins. Each has a fireplace, a sofa hide-a-bed in the living room and full kitchen. These chalets are dog-friendly lodgings.
Collins Inn and Seaside Cottages
Ocean views come with four two-story, two-bedroom cottages for rent at Collins Inn & Seaside Cottages. A bedroom is on each floor and the lower-floor kitchen is fully equipped, including cookware, utensils and dishes. Each cottage has a river-rock fireplace, full-size bathroom, a washer and dryer, two flat-screen TVs, and bicycles to borrow for a ride to the beach. Unlike many properties, this one does not charge a cleaning or pet fee. Also on the grounds is a five-room bed-and-breakfast for couples only.
Snugglers Cove Resort
Snugglers Cove Resort leases four studio-style cabins. Each has a queen-size bed in a common area with living room-style seating, television and kitchen space with mini-fridge and stovetop cooking space; two have ovens. Choose one with a gas fireplace or one with an electric fireplace. All have outside raised decks facing the beach. On the property is a four-bedroom beachfront house that has been divided into two units to rent separately or together. It's a short walk to the water from all properties.
Vacation Rental Websites
Companies that list individually owned cabins online in Ocean Shores include VRBO, HomeAway and Flipkey. Flipkey includes three-bedroom/two-bath properties among its Ocean Shores listings. VRBO includes log cabins. Frommer's suggests obtaining a detailed contract that includes all costs, including extras such as cleaning fees, before making a deposit.